Glamaroma Coconut Vanilla Moisturizer Review
Since 'Winter is Here' (GOT pun intended!), we are all searching for a good moisturizer to tackle this harsh weather, to begin with. Thankfully my winter is sorted because Glamaroma has sent me this amazing moisturizer which does do its job. Want to know more? then keep on reading.
PRICE: Rs.399
Buy It from Amazon, Glamaroma (Use Code IBB5 to get 5% off)
INGREDIENTS: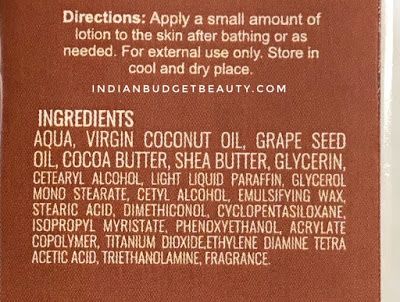 Claims:
Skin enriching and Nourishing Moisturiser for the skin. 
Suitable for all skin types. 
Can be used on Facial skin as well as on the Body. 
Light weight Non-greasy Formula. 
Sinks Deep into the Skin and doesn't leave a tacky feel. 
Extremely Hydrating. 
Doesn't leave the skin oily. 
Perfect Moisturiser to Prep the skin before makeup.
Glamaroma Coconut Vanilla Moisturizer Review
PACKAGING: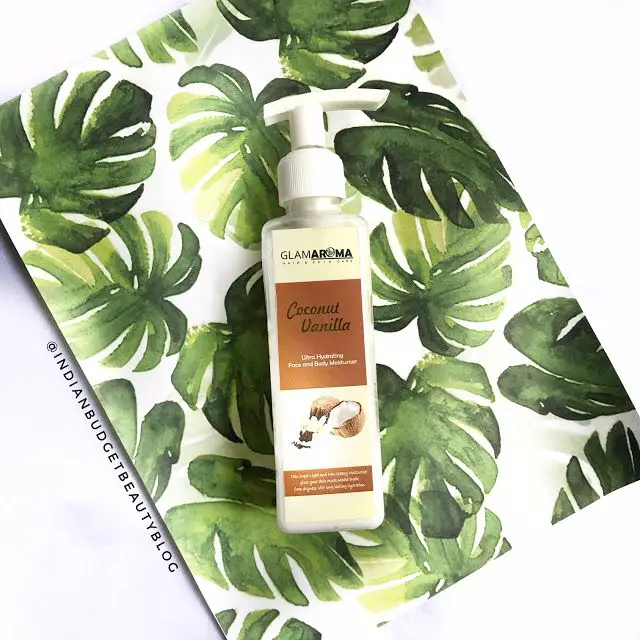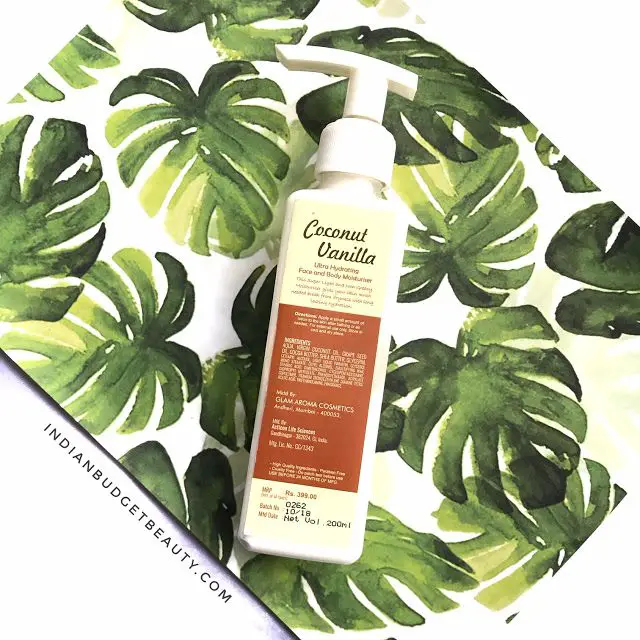 Glamaroma Coconut Vanilla Moisturizer came in a simple white plastic packaging with a pump. It has all the details mentioned on the backside of the bottle. It is not travel-friendly but it is definitely appropriate for daily usage. I feel like the pump should have been better but my main focus in on the product itself, so I'd let this slide 😉
ALSO READ: Luxurious Adore Aurum 24K Gold Serum
CONSISTENCY: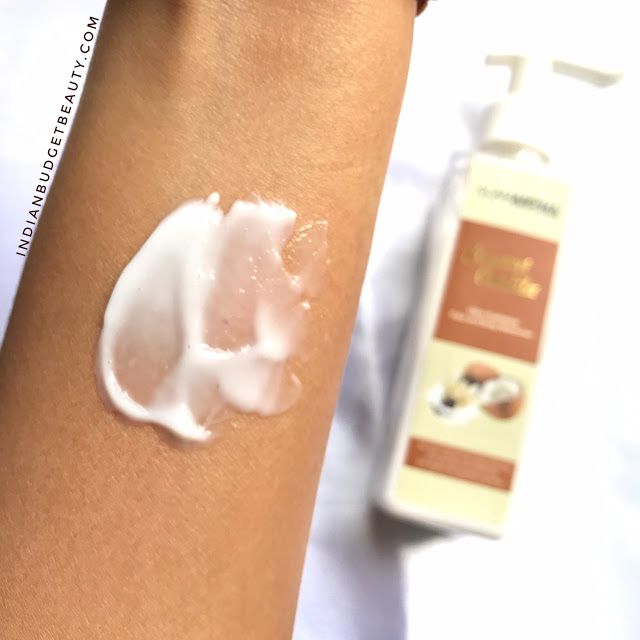 Glamaroma Coconut Vanilla Moisturizer has semi-thick lotion consistency which gets absorbed very easily. It is very moisturizing and makes your skin feel very plump and hydrated. I really enjoyed this consistency as it is effortless and blends into your skin like a dream. It has a lightweight formula which is non-greasy. You just need a small amount of the product for your face and body.
FRAGRANCE:
I'm in love with the fragrance of this moisturizer. It has a choco-vanilla fragrance which makes you feel very fresh and is very much pleasant and not over-board.  
ALSO READ: The Fab 100x Washed Ghee Moisturizer REVIEW 
MY FINAL THOUGHTS ABOUT THE PRODUCT:
I've heard great things about the Glamaroma Rose Gold Mist which is still on my wishlist. So, when I received a package from Glamaroma, I was ecstatic. I knew this product would be great as well. You can see on the pictures that this moisturizer is well-loved by me and I've nearly finished half of it. This moisturizer keeps your skin moisturized and hydrated nearly all day long. But I prefer applying it twice a day for added moisture.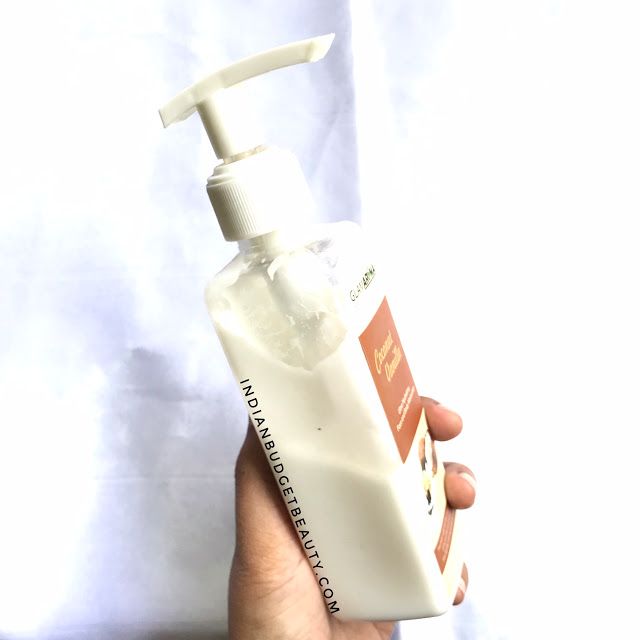 It did not break me out which is a big YAY, because whenever I switch my moisturizer I tend to get little break-outs here and there. It claims that it will suit all skin types, so everybody can use it. I've used it underneath my base makeup and damn! it preps your skin well before foundation application. I've noticed that it kept my skin moisturized for 8 hours long after which I had to apply it again.     I loved the fact it contains a lot of goodness in it. Some of the main ingredients that it contains are:
Virgin Coconut Oil: It is naturally antibacterial and antifungal and works as a great moisturizer.
Grape Seed Oil: It enhances in improving your skin's moisture and softness.
Shea Butter: It works as an anti-inflammatory and healing properties. It can help in conditioning, toning, and soothing your skin.
Glycerin: It is a moisturizing and nourishing agent.
  The only issue I had is with the pump. Sometimes it does not dispense the product even after pumping it twice. Other than that I loved the product and I'd highly recommend it to everybody. Now, let us just jump into the PROS and CONS, shall we?  
ALSO READ:
FUSCHIA by VKARE Cherry Care Hand & Nail Cream REVIEW
Easiest Night Time Skincare Routine | Only 5 Steps to Achieve that Glowing Skin
PROS: 
Very moisturizing and hydrating
Can be used to prep your skin before makeup
Contains Active ingredients – coconut oil, grape seed oil, shea butter, glycerin
Great fragrance
Keeps skin moisturized for about 8 hours
Light-weight formula
Gets absorbed very easily into the skin
CONS:
The pump could have been better.
RATINGS: 4.5/5
(Product Sent To Me For Review)