Plum Bodylovin Body Oil DEALS
One brand that was a huge hit in 2021 was Plum Goodness. The Plum Bodylovin Body Oils are my holy grails and I've repurchased them almost 5 times now. It can be pricey when you buy it alone but being the budget-beauty guide, I'll recommend that you stock these during the B2G2 sale. Follow my Instagram for such sales.
Price: Rs.550 for 200ml
Available at Amazon, Nykaa, Plum Goodness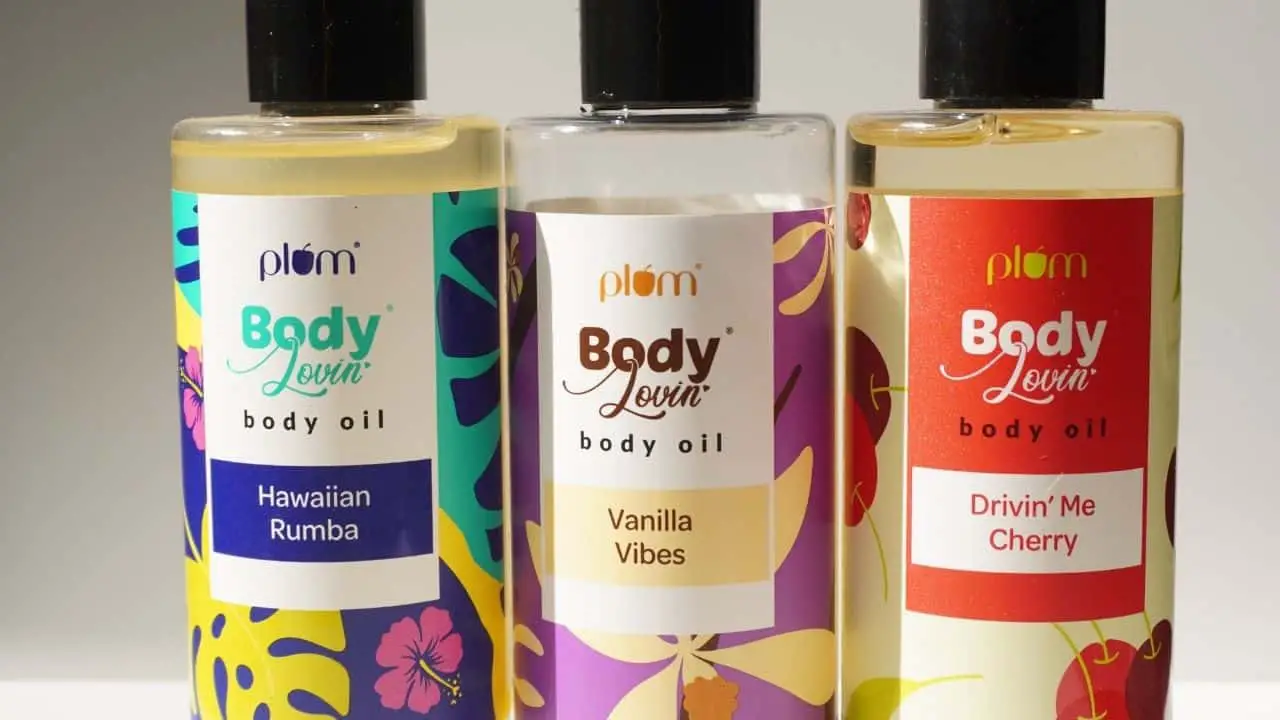 Having super dry skin, I always gravitate towards oils and body butter, something that is rich and will protect my skin from the harsh climate. Earlier during summers, I used to apply body lotions instead of oils but after I was introduced to the Plum Bodylovin Body Oils, I've never stopped using them. My whole family is hooked on this one product from Plum and they can never stop telling me and others how amazing this oil is. It's non-sticky, absorbs into the skin quickly, nourishes it, and moisturizes it all in one go while making you smell good.
Ingredients: Helianthus Annuus (Sunflower) Seed Oil, Ethylhexyl Palmitate, Isopropyl Myristate, Fragrance, Caprylic/Capric Triglycerides, Persea Gratissima (Avocado) Oil, Pentaerythrityl Tetra-di-t-butyl Hydroxyhydrocinnamate, Cocos Nucifera (Coconut) Oil, Olea Europaea (Olive) Fruit Oil, Vitis Vinifera (Grape) Seed Oil, Prunus Amygdalus Dulcis (Sweet Almond) Oil, Daucus Carota Sativa (Carrot) Seed Oil, Tocopheryl Acetate, Bertholletia Excelsa (Brazil Nut) Seed oil, Tocopherol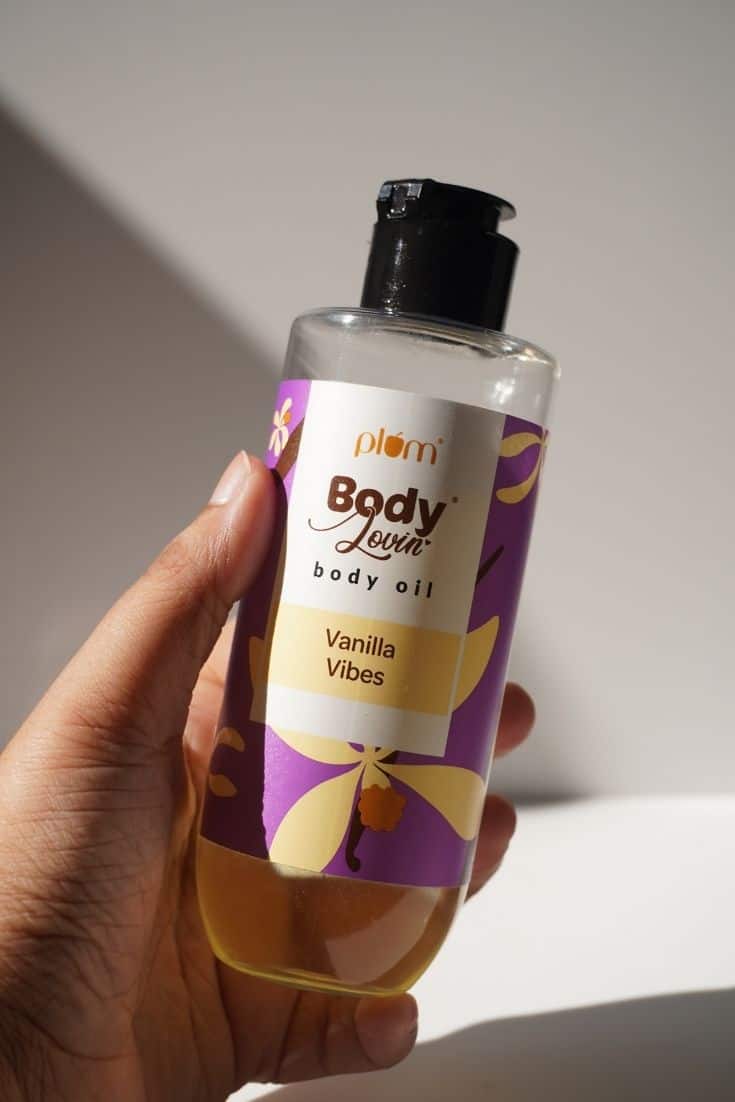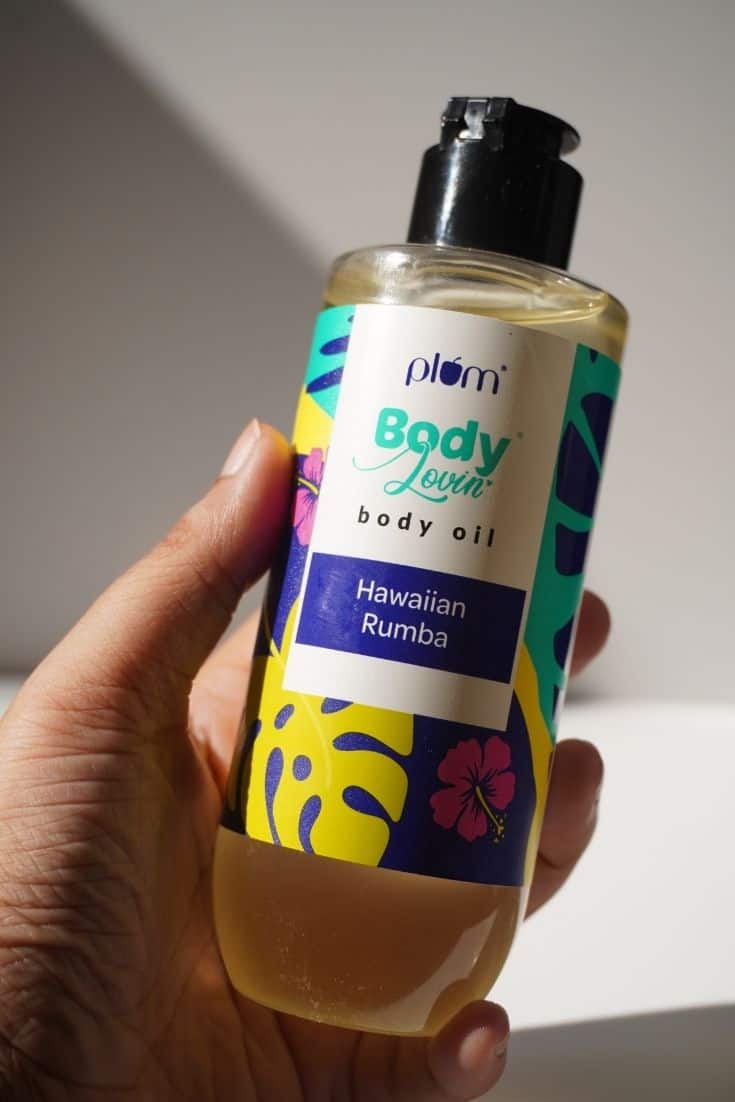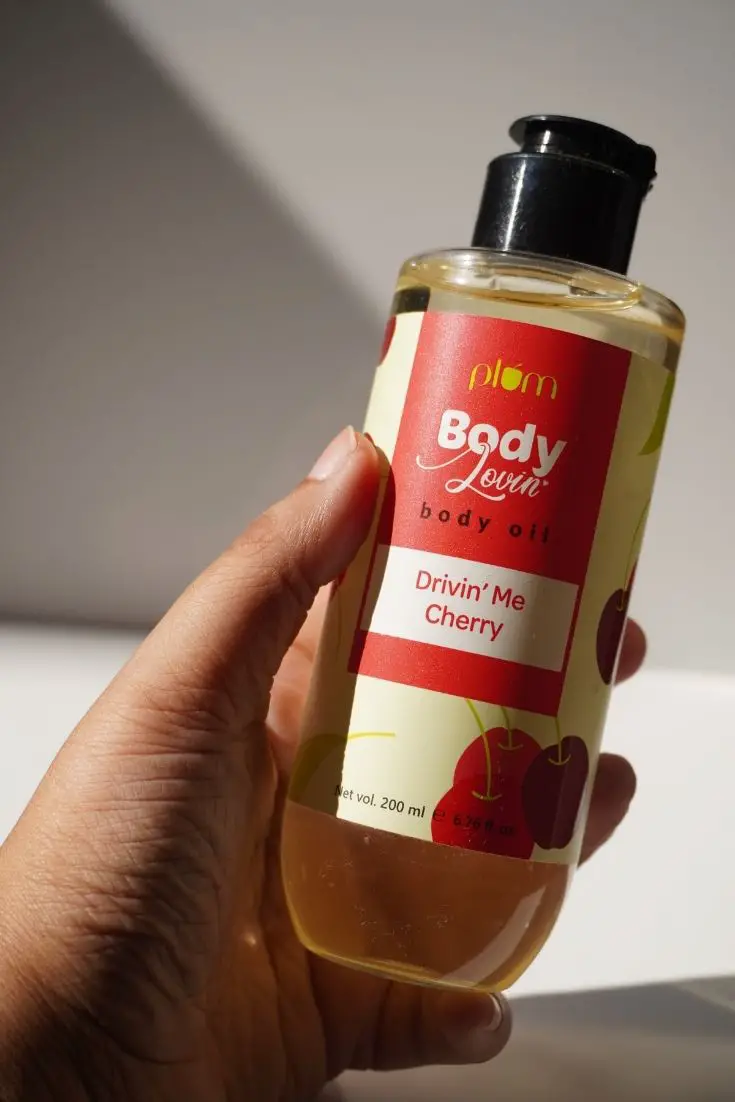 These body oils have flip-open packaging that easily dispenses the product. You just need to shake the bottle and dispense the product. There is a safety separator that you will need to open before using the product and hence it does not spill during transit.
It comes in a 100ml bottle and a 200ml bottle.
Plum Bodylovin Body Oil Vanilla Vibes
This Vanilla Vibes body oil smells exactly like a vanilla cupcake. The fragrance is not too over-powering but just the perfect amount that keeps your body smelling good all throughout the day.
It's my favourite variant out of them all. The fragrance is so subtle and lasts for around 3-4 hours.
---
Plum Bodylovin Body Oil Hawaiian Rumba
This variant is my least favourite out of the three. It smells like beaches but the smell is not sticking or unique like the other two. Nonetheless, it's subtle and lasts for around 2-3 hours.
---
Plum BodyLovin Body Oil Drivin Me Cherry
This Drivin Me Cheery has a sweet smell of cherries. If you like sweet and fruity fragrances, then this is the one to go for.
---
How To Use Them?
These body oils can be used in multiple ways. I like to use them on my damp body just after showering. You can also use them on your cuticles or on your feet if you are suffering from cracked heels.
My Final Thoughts On The Product:
The Plum Body Oils are enriched with 8 different oils – Avocado oil, coconut oil, almond oil, Brazil nut oil, carrot seed oil, olive oil, grape seed oil, and sunflower oil. All the variants contain these 8 oils. So the composition is the same, it just varies from different added scents.
It's a body oil that gets absorbed very quickly. It does not make you feel sticky and keeps your skin moisturized throughout the day. Over time, I've noticed that my skin felt softer than before.
The fragrance is very subtle and lasts for around 3-4 hours. You can definitely use their fragrance mist along with the oil to make the fragrance last longer.
You need a very small amount for your entire body and hence the 200ml bottle could last you over 2 months. I love that it does not make you feel warmer like other body oils and hence you can even use it during the summers as well.
Which plum body oil is best?
If I'll have to rank their variants, then it will be in this order Vanilla Vibes > Driving Me Cheery > Huwaiian Rumba.
You can get 15% off by using my code TRISHNA15
Related Reviews:
The Review
Plum Bodylovin Body Oil
PROS
Non sticky formula
Absorbs very easily
Deeply moisturizes the skin
Minimal quantity required for moisturization
Nice fragrances that makes your body smelling good
Flip-open packaging that easily dispenses the product
CONS
Fragrance does not last all day