Nykaa Beauty has recently launched their Nykaa Love Struck Perfumes. It is their affordable perfume range, priced at Rs.699. Generally, perfumes are quite subjective. What might be my favourite, might not be yours. I found these perfumes to be one of the best affordable perfumes in India. These perfumes are EDP, which stands for Eau De Parfum.
The brand gifted me 3 of their variants: Love Notes, First Date, Stay With Me and here's my experience with the Nykaa Love Struck Perfumes.
What The Brand Says About The Product:
"Love Struck is a collection of fragrances that makes you want to fall head over heels in love. From those stolen glances at your hunky high school sweetheart to playing he-loves-me-he-loves-me-not, and bursting into a shy giggle every time your crush caught your hidden blush. This collection captures those cute moments to offer you a scent for every little feeling you felt."
---
Price: Rs.699 for 50ml 
---
Packaging: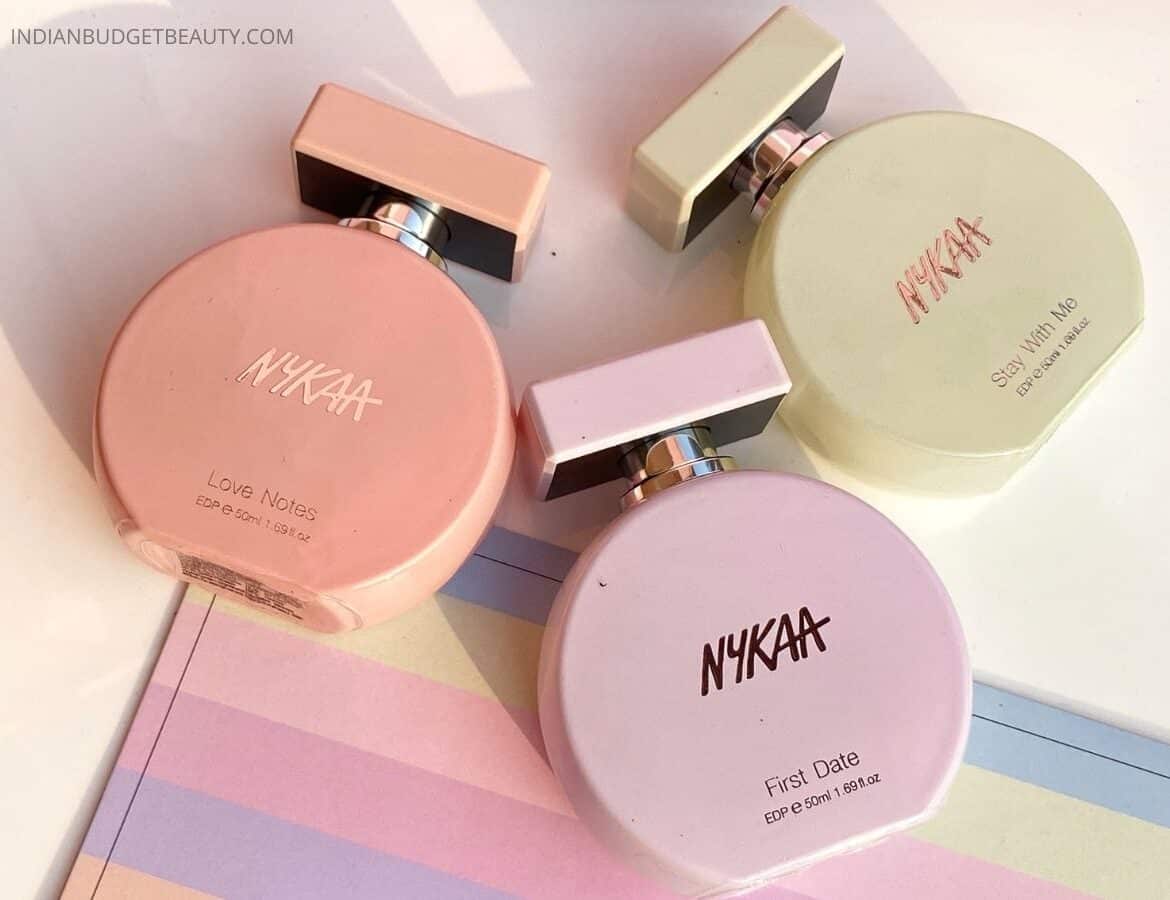 Nykaa Love Struck Perfumes comes in cute round perfume bottles with different shades of pastels. The packaging is very minimal yet very aesthetically pleasing to the eyes. The shades and the bottles really vibe with the whole range of romance and love.
The material of the bottles are hard and feels luxurious. You also get the whole ingredients and other details mentioned at the bottom of these perfumes. I'd give a 5/5 for their packaging.
You can definitely gift these to your loved ones as they are available in 8 different variants with cute names:
Hidden Blush
Stolen Glance
Talk All Night
Tender Touch
Love Notes
Stay With Me
Skip A Beat
First Date
---
Nykaa Love Struck Perfume "Love Notes" Review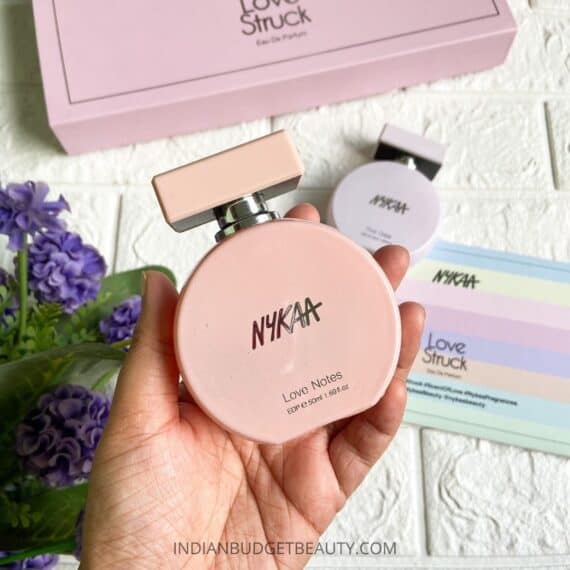 Fragrance Family: Oriental, Floral, Woody
Top: Lemon, Red Berries
Middle: Jasmine, Rose
Bottom: Amber, Vanilla, Tonka, Sandalwood
Lasting Power: 5-6 hours
How Does It Smell Like?
Love Notes is my favourite out of the whole Nykaa Love Struck Perfumes collection. It has a floral fruity scent to it that diffuses with time to a gentle hint of sandalwood. I would highly recommend this perfume if you are in search of a gentle floral fruity scent. This scent is perfect for day time date and brunch.
---
Nykaa Love Struck Perfumes "First Date" Review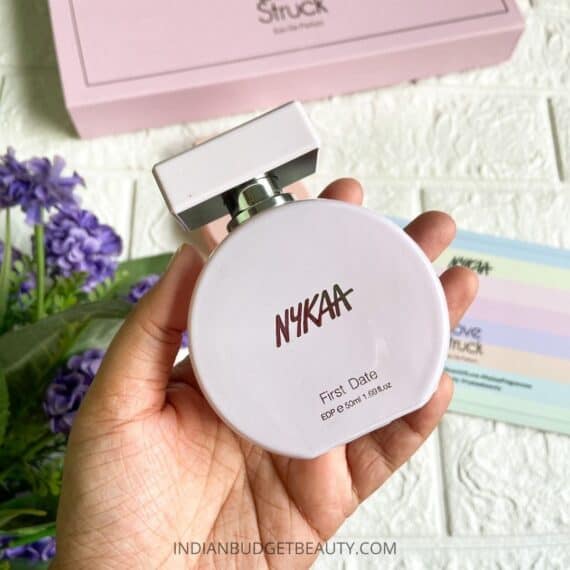 Fragrance Family: Oriental Floral
Top: Bergamot, Tea, Osmanthus
Middle: Jasmine, Orchid, Rose, Orange Blossom
Bottom: Musk, Patchouli, Sandal 
Lasting Power: 5-6 hours
How Does It Smell Like?
It has a musky, mysterious scent to it. Not like usual floral perfumes, it has a mild floral scent to it. I am not a big fan of musky perfumes so I don't have much to say about it. I feel like it will be a good option to wear at night.
---
Nykaa Love Struck Perfumes "Stay With Me" Review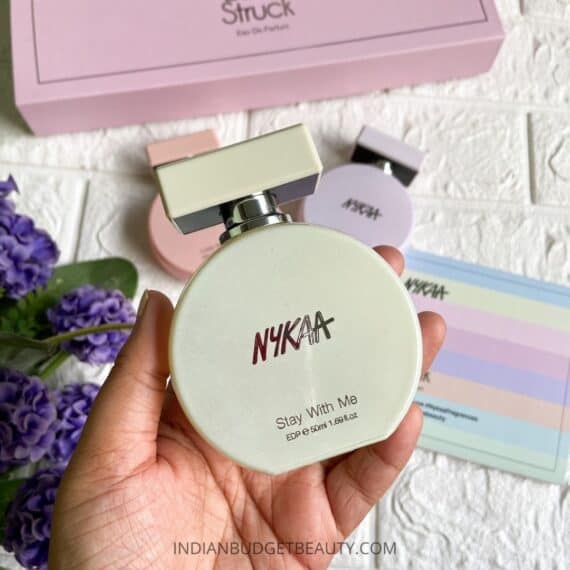 Fragrance Family: Aromatic, Citrus, Woody
Top: Lemon, Bergamot, Mint
Middle: Jasmine, Peony, carnation
Bottom: Cedarwood, Sandalwood, Amber
Lasting Power: 5-6 hours
How Does It Smell Like?
It has a fresh citrus smell to it with a hint of woody notes. I'd love this perfume for a summer day because it instantly makes my mood fresh.
---
My Nykaa Love Struck Perfume Review
If I were to choose any one out of the 3, then I'd obviously choose and recommend the variant Love Notes. Overall, I feel these perfumes are of great quality that's available at an affordable price. Coming to its longevity, it's not the longest last lasting perfume like my All Good Scents Lolette EDP. But for the price, it's a good one.
Nykaa Love Struck Perfumes Review
Packaging

Longivity

Sillage
---
Related Reviews: