You know that I've been obsessed with the NYX Soft Matte Lip Cream dupes by Miss Claire. I've reviewed almost 8 of them of my blog. So, then I got the real NYX Soft Matte Lip Cream Copenhagen and Madrid. I can say that these are the most comfortable satin-matte lipsticks I have. Read the NYX Soft Matte Lip Cream review here.
---
PRICE: Rs.600 ($6.50)
---
Packaging: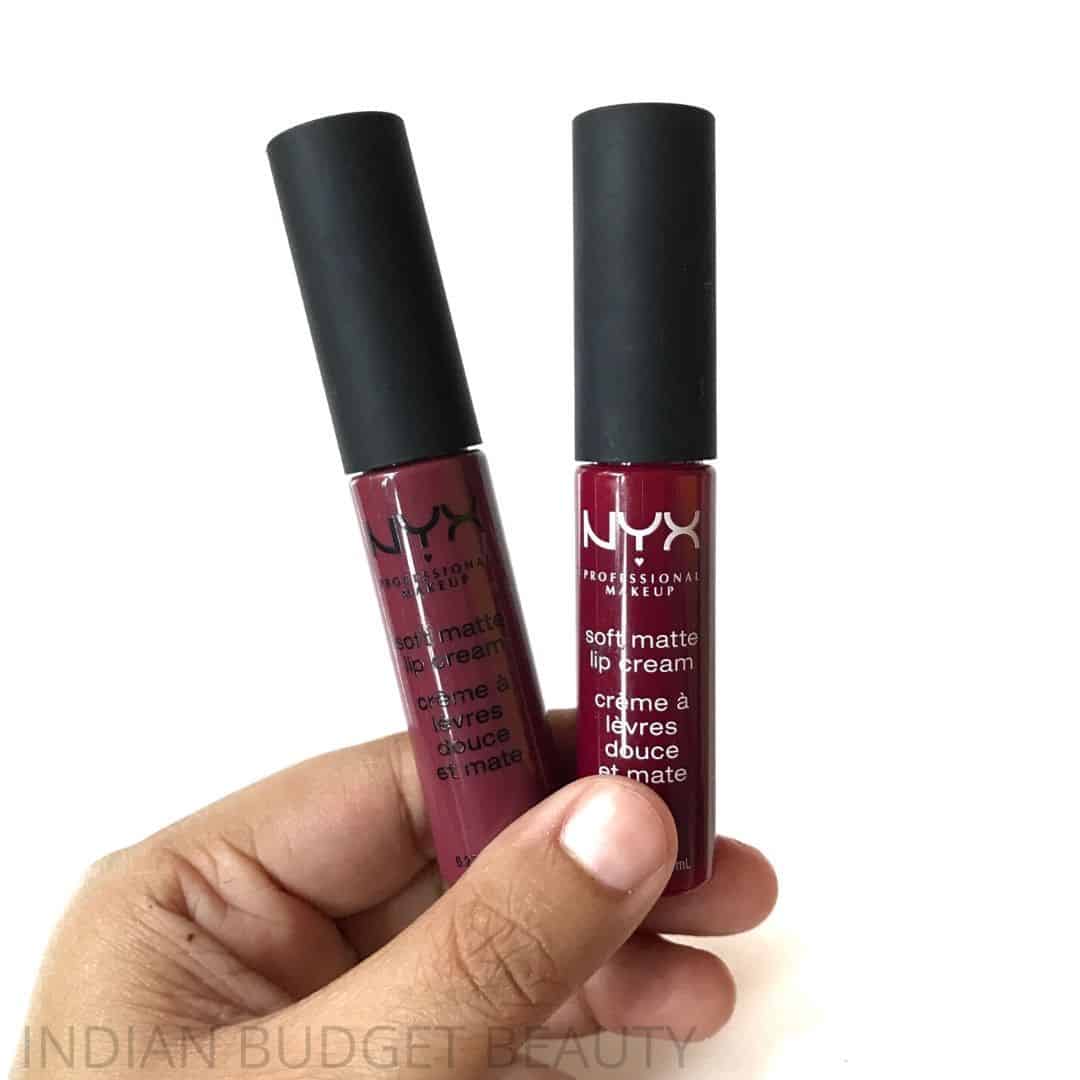 COPENHAGEN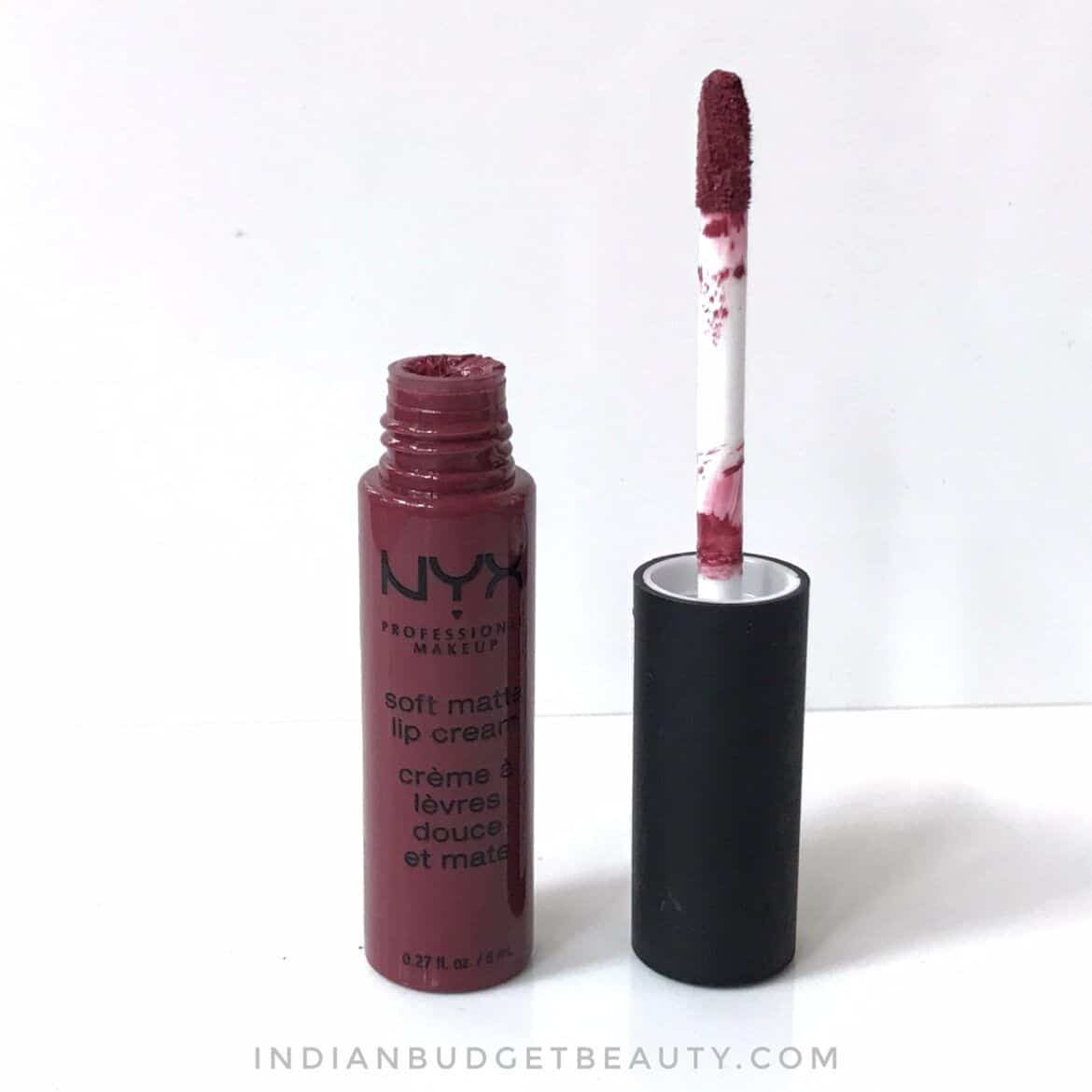 MADRID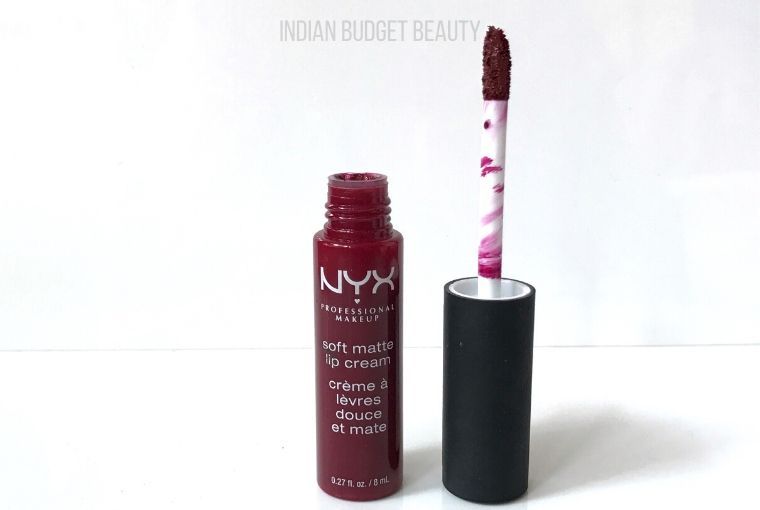 NYX Soft Matte Lip Cream comes in small cylindrical tubes with a rubberized cap. All the tubes are color-coordinated which makes it easier to identify.
They have the shade name and number mentioned on the bottom of the tube. You also get the ingredient lists on the tube itself.
These lip creams have a normal doe-foot applicator which kind of does a decent job in applying lip cream.
They do have a shelf life of 18 months.
Formula & Consistency
I found their formula to be like a mousse. The formula is very similar to Lakme Lip & Cheek Tint. It's very soft and silky. Its very light-weight The consistency is thicker than a liquid lipstick and less drying than a matte lipstick.
I love this NYX Soft Matte Lip Cream formula. It is non-drying on the lips and very comfortable to wear.
Pigmentation
These Lip Creams are very pigmented, specially the darker shades. They do give an opaque finish in one swipe.
Fragrance
It does have added fragrance but its a fruity scent. I did not have any problem with it. It's not at all over-powering.
If I compare them with the Miss Claire Soft Matte Lip Cream, they also have the exact same fragrance.
NYX Soft Matte Lip Cream Swatches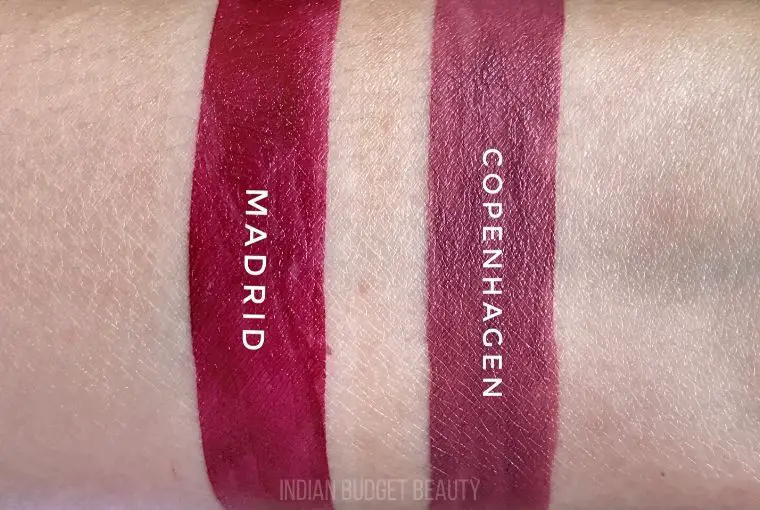 NYX Soft Matte Lip Cream
Copenhagen

Review

NYX Copenhagen is inspired by the capital of Denmark (Copenhagen). It is described as a rich plum shade. But on me, it's more of a mauvey-purple shade. It's quite lighter than its shown on their site.

I really love this shade for everyday use as its not too light nor it's too deep. It's the perfect shade for those who don't want to commit to a deeper purple.

It is very bendable and not at all patchy. NYX Copenhagen will look great on light to medium-dark skin tone.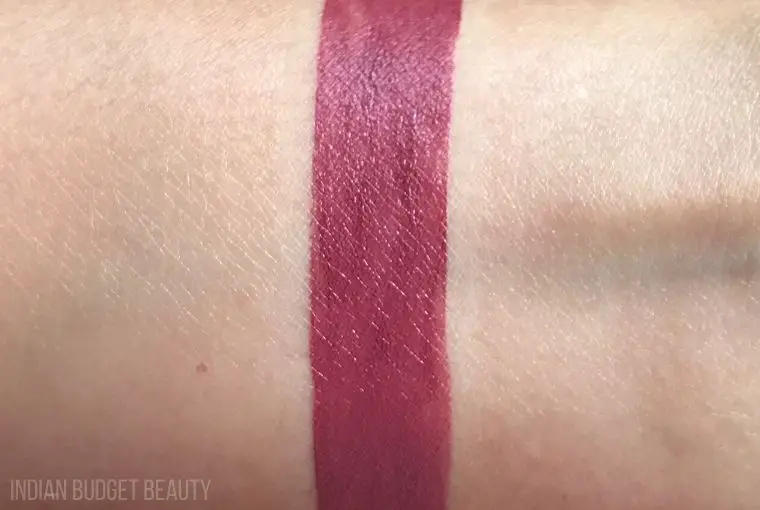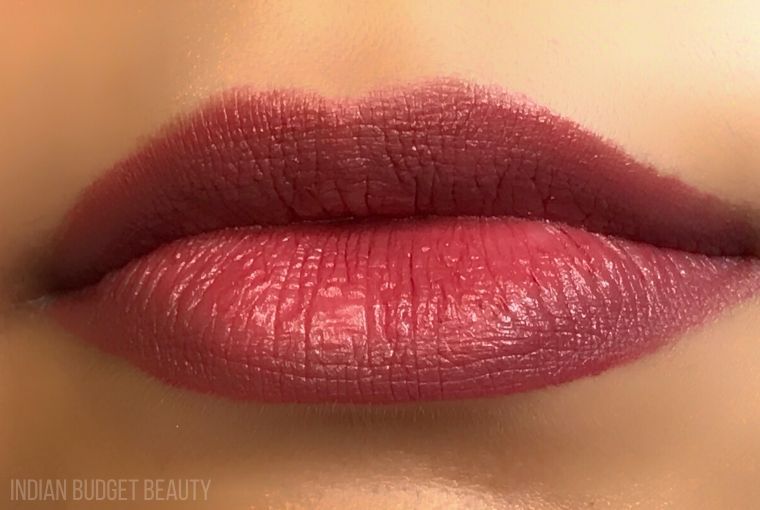 You can buy NYX Copenhagen on Nykaa or ULTA
---
NYX Soft Matte Lip Cream
Madrid

Review

NYX Madrid is inspired by the capital of Spain. It is described as a cranberry red shade. On me it looks like a blue-based red which is not too intimidating.

I'm a girl who never wears red lipstick but I've worn NYX Madrid. Its not too striking, on-your-face red but a nice deeper blue-based red.

It is very bendable and not at all patchy. NYX Madrid will look great on all skin tones.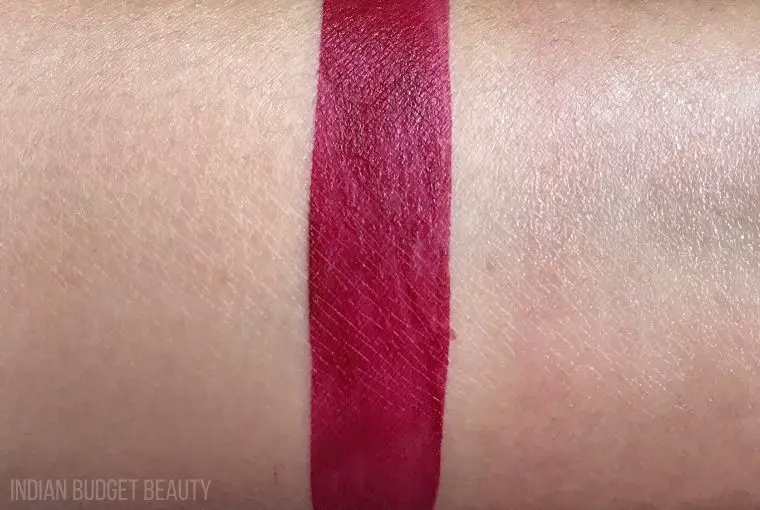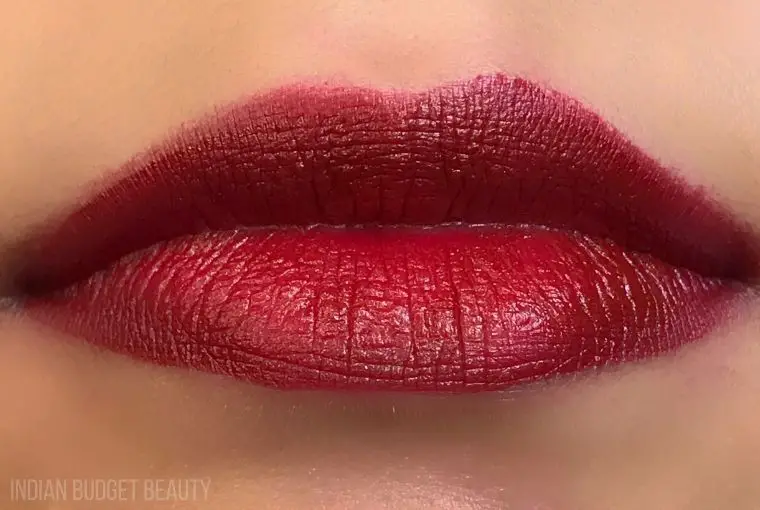 You can buy NYX Madrid on Nykaa or ULTA
---
Longevity
The deeper shades have a prolonged-lasting power than the lighter shades. Copenhagen stayed for almost 4 hours on me. But after having a meal, it did fade away.
Madrid stayed a bit longer, almost 5 hours but after fading it did left behind a stain.
Are They Transfer-Proof?
These lip creams transfer in the beginning. But after they are fully set, it dries down to a matte finish and does not transfer at all.
---
Final Thoughts On these Lip Creams
I love how comfortable they are on the lips. These lip creams never dry me down even after they settle into a matte finish. You also get a huge shade range to choose from. Their longevity can be increased by using a lip liner underneath. They have a beautiful formula that never clings onto any dry patches. I'd recommend them if you want to try a matte non-drying lip cream. But do keep in mind that these lip creams are not long-lasting.
---
NYX Soft Matte Lip Cream Dupes
But if you are searching for an affordable alternative, then Miss Claire Soft Matte Lip Creams, Lakme 9 to 5 Lip & Cheek Color, and Maybelline Sensational Liquid Matte Lipsticks are an exact dupe of these NYX lip creams.
---
Also Read:
NYX Perfect Filter Eyeshadow Palette Rustic Antique Review | Swatches
NYX HD Photogenic Concealer Wand Review, Swatches & Comparison
Miss Claire Soft Matte Lip Cream 11 REVIEW (Nyx SMLC Dupe)
---
DON'T FORGET TO PIN THESE