2018 has been a year of stylish clear bags which is quite a bit of fashion statement. When it comes to bags, there has been a huge buzz about fanny packs and clear handbags/ transparent bags. This trend of stylish clear bags fashion has come into 2019 as well.
We can see celebs like Kim Kardashian, Ariana Grande, Rita Ora flaunting their own clear transparent bags which have a great influence in the fashion industry. So, I've curated a list of 10 transparent bags which will help you in choosing your very own.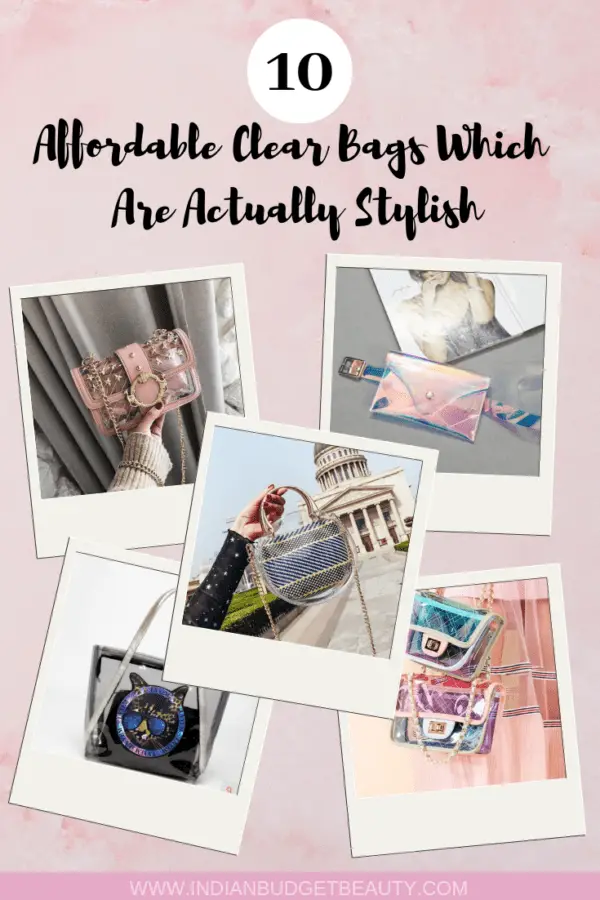 Stylish Clear Bags Fashion Pieces:
1) Clear Fanny Pack 
Fanny Packs were usually fashionable among tourists in the 1980s and then came into the fashion scene. It is well adored by celebs, fashionistas, influencers who made the trend come back in 2018. So, clear fanny packs or bum bags will definitely make you look uber-stylish. Try the holographic ones or the colorful ones, they make sure to add an element into your attire or #OOTD.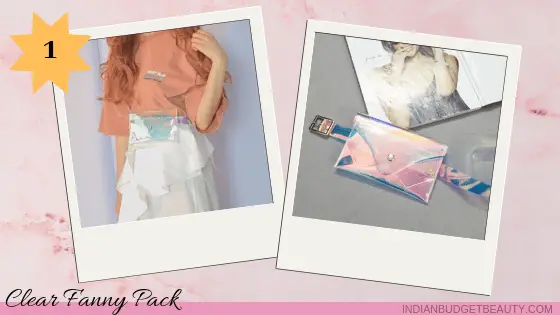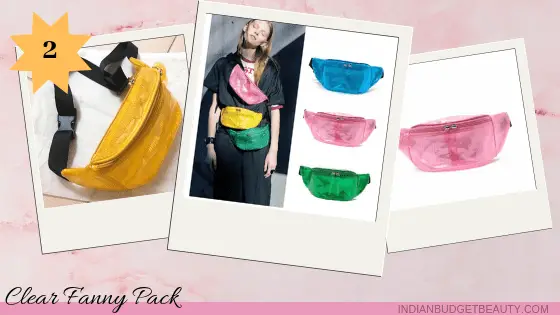 2) Clear Handbags
Handbags are the most versatile bags. They are of many different shapes, sizes, and categories. You can totally rock a sling bag, a top handled bag, tote bag or even the clutches with embellishments. The fact that these bags are also available in a clear, transparent form makes them a fashion statement. I've listed a few below some clear handbags which can be worn with any outfit to make you feel and look like an actual diva or maybe you can totally grace your Instagram feed with this fashion accessory to make it look glamorous
3) Clear Crossbody Bags
Clear Crossbody bags are totally easy to style and wear. You can totally add an opaque bag which will give color to your clear bag. You can pair it with a simple white Tee and blue jeans and you'll look effortlessly stylish in minutes.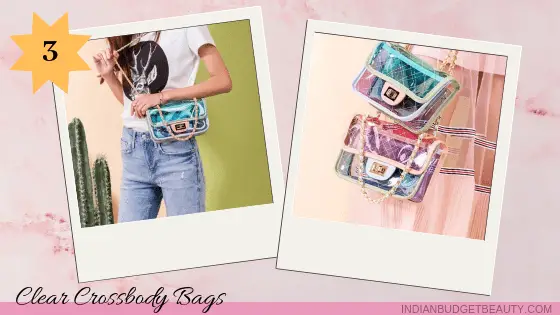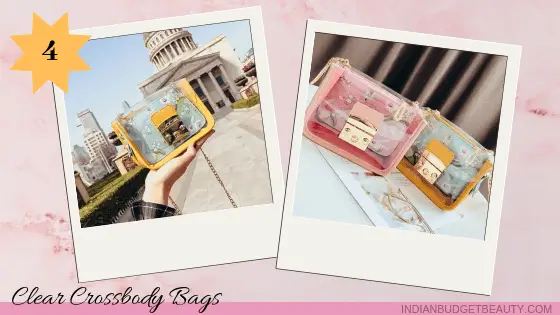 4) Stylish Clear Tote Bag
Tote bags are everyday essential. Below is a very pretty tote bag which can be worn with any casual wear or
beach wear
. You can totally throw in any other small pouch inside to make it look more stylish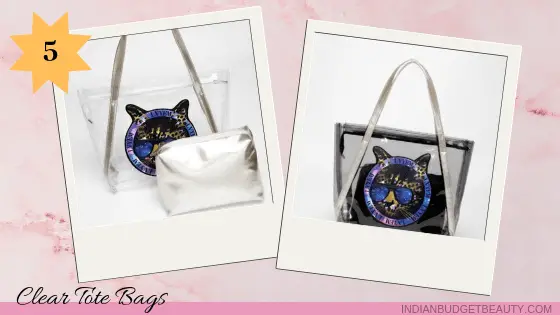 ALSO READ: 4 Purses Every Woman Should Own In Her Closet
5) Clear Backpack
I've chosen the backpack below because it is not totally clear or transparent. You can definitely a sneak peek of what's inside from the clear region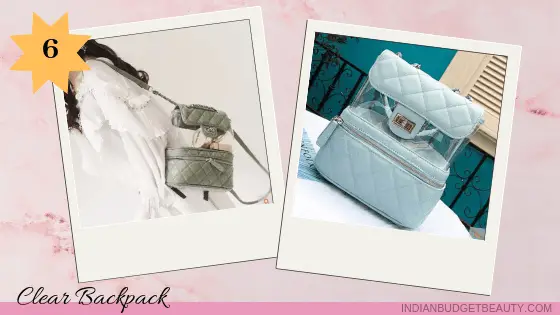 6) Clear Bucket Bag
Clear bucket bags are one of the most easy-to-style bags. Just throw in anything and it makes you look like a fashionista.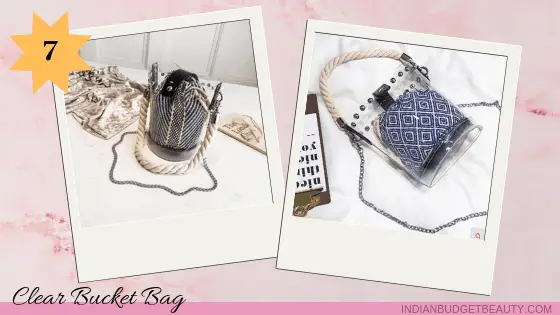 7) Clear Embellished Handbags
Personally, I instantly love a bag which has some sort of embellishment. So, when I came across the bags mentioned below, I instantly fell in love. Embellishment like stars, pears or even studs can totally make the bag a statement piece. The clear embellished handbags below are totally something I'd love to invest in.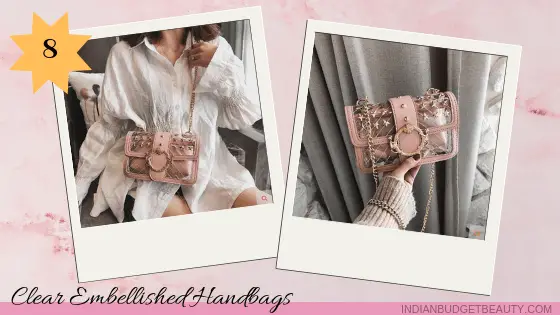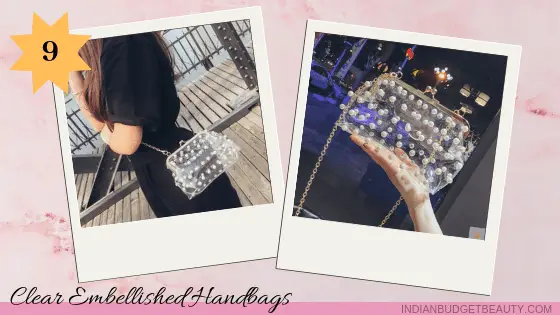 8) Clear Beach Bag
If you want something fun to invest in, then try a clear beach bag or any bag with a curve, you'll definitely fall in love.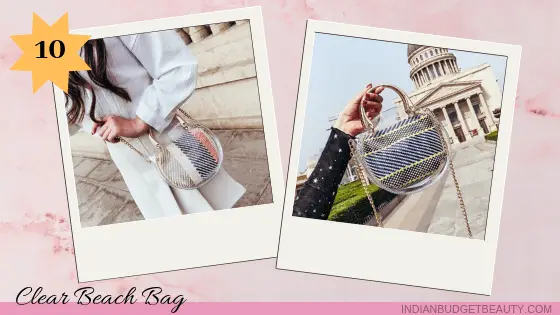 If you have any suggestions or addons then don't forget to DM me on
Instagram
or comment down below.
(S.P)