Vedantika Herbals Ubton Review
Hello Everybody, Happy Magh Bihu to you all. If you have read my review of Vedantika Herbals Facial Scrub, then you might be knowing how much I loved that. So, when I received this Ubton as a part of testnreview campaign, I was elated. Because I knew that I'd love this. Let's just start with the Vedantika Herbals Ubton Review, shall we?
ABOUT THE BRAND:
 Established in 1997, NCL Agro foods (vedantika Herbals) is a group of researchers and scientists headed by Shri N. C. Limbasiya. Shri N. C. Limbasiya, a food technologist and a well known name in Gujarat, is also an advisory board member of medicinal plant and preservation board of Saurashtra university. He is doing research in natural foods, food preservation, food based supplements, herbs and its effects on the human body for the last 16 years.
ABOUT THE PRODUCT:
A time-tasted formula made with Precious Ayurvedic Herbs Nuts & pulses. It helps to minimize scars, black heads, patches and blemishes. In India it is a ritual to apply this pack before marriage ceremony. It provides a natural radiant glow.
INGREDIENTS:
Lens esculenta, Sesamum indicum, Prunus Amygdalus, Curcuma Aromatica, Azadirachta indica, Santalum album, Rosa Centifolia, Punica Granatum Linn., Citrus Aurantium, Cicer arietinum Q.S.  
PRICE: Rs.25 for 10 g | BUY IT HERE
PACKAGING:
   I received two satchets of this ubton. It has a brown paper-like outer covering which contained the 10 g product. If you use it only for your face than one package can will last you upto 6 usage.   
  All the ingredients and the other informations are listed on the back side of the satchet.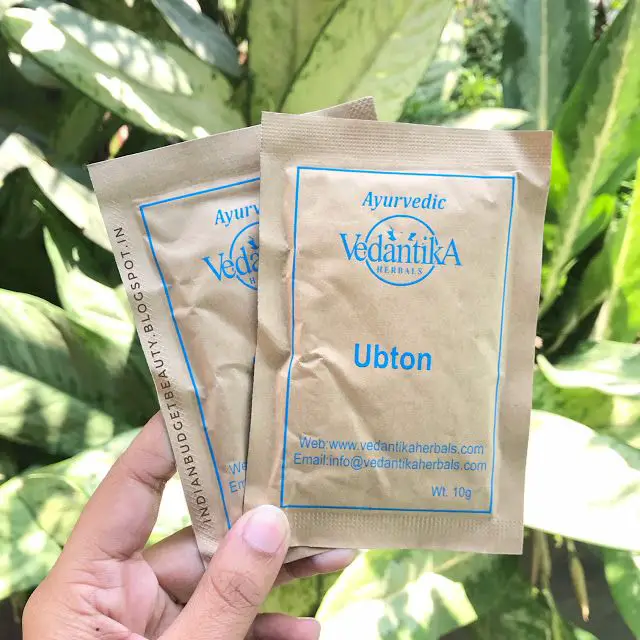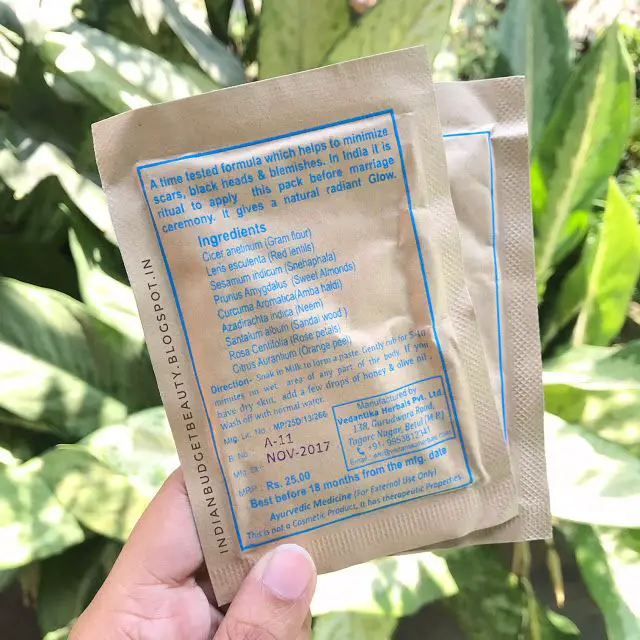 MY REVIEW ABOUT THE PRODUCT:
  This ubton is a yellow colored powder which can be used as a facial scrub or as a face pack. I've used it both as a facial scrub and also as a face pack. Both gave me wondeful results.    
All you need is a bowl,
Then add 2-3 teaspoon of the product
and then add few drops of milk to form a paste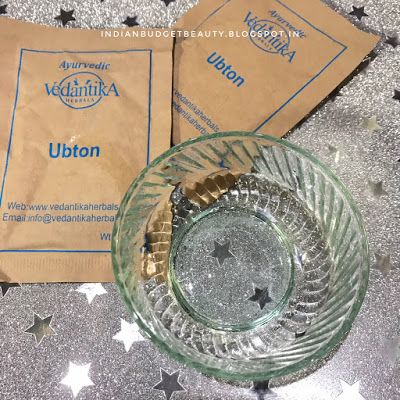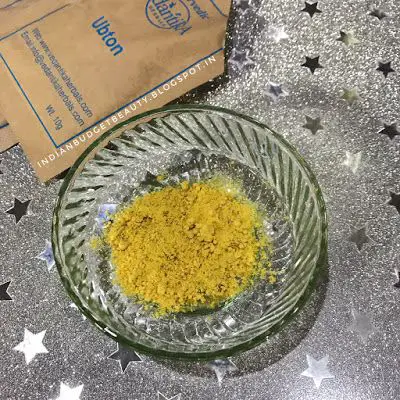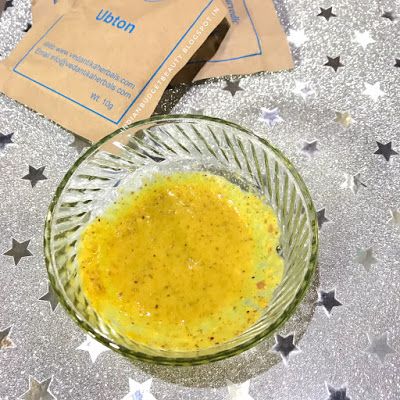 I've kept this as a facemask for 10 minutes and then washed it off. Make sure not to let it dry fully onto your face as this might make your face red and it becomes difficult to remove.  
I've noticed that this ubton made my face brighter, softer, and gave a beautiful glow. This even tightened my pores which is a good thing.   
I've even used it as a face scrub which helped in removing the dead cells and dirt. I highly recommend this product, even my mother loves it and it's so affordable.  
Also Read, Related Reviews:
Vedantika Herbals Review: Neem Tulsi Aloe Face Wash Review
Vedantika Herbals Facial Scrub Review
Vasu Facial Beauty Oil With Kumkumadi Tailam & Aloe Vera Gel Review
PROS:
Very affordable
Easy to use
Contains all natural products
Tightens the pores
Makes face brighter and softer
Can be used as a facepack or  as scrub
Can be used all over the body
CONS:
  RATINGS: 5/5