Vedantika Herbals Facial Scrub Review
Hello everybody, I hope you all are doing well. It's been a while since I've reviewed a skincare product, so I'm back with an amazing facial scrub, which is affordable of course. So, when TestnReview along with Vedantika Herbals sent me this sachet of Vedantika Herbals Skin Polishing Scrub, I was delighted! Let's begin, shall we?
ABOUT THE BRAND:
Established in 1997, NCL Agro foods (vedantika Herbals) is a group of researchers and scientists headed by Shri N. C. Limbasiya. Shri N. C. Limbasiya, a food technologist and a well-known name in Gujarat, is also an advisory board member of the medicinal plant and preservation board of Saurashtra university. He is doing research in natural foods, food preservation, food-based supplements, herbs, and its effects on the human body for the last 16 years.
ABOUT THE PRODUCT: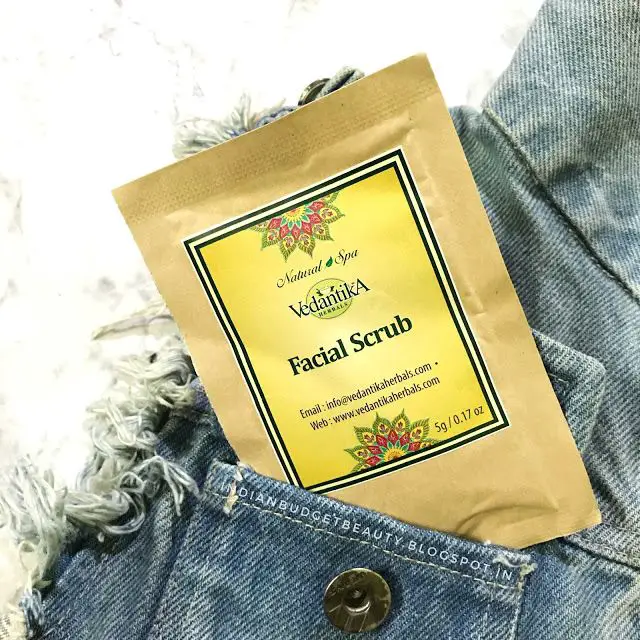 Formulated with Oats, Herbs, Nuts, and Pulses this daily facial Scrub Nourishes soothes, and softens as it exfoliates dead cells and pollutants for a softer and more radiant complexion. This versatile combination can be used as a facial scrub or a facial mask.  
PRICE: Rs.40 for 5g | BUY IT HERE
INGREDIENTS:  
Oscimum Sanctum (Holy Basil), Glycyrrhizaglabra (Liquorice ) , Avena Sativa (Oats) ,  Sesamumindicum 
Application:
Mix with milk, curd, or water to form a paste. Apply to the wet area of the face, and neck and gently rub in upward directions for few seconds, gently rinse off. If have dry skin add few drops of Honey or any oil in paste.
 Benefits:
100 % Natural cleanser for everyday use • It does not strip off your natural moisture • Removes impurities, dirt, contaminants, and excess oil naturally• Nourishes it from deep inside and promotes skin softness  
Uniqueness of the product :
Paraben Free, Silicone Free, No Artificial Aroma, No Artificial Chemicals, Non-comedogenic, 100% Natural  
PACKAGING:
The Vedantika Herbals Facial Scrub comes in a small sachet, which contains 5g of product. The packaging has all the necessary details and instructions written on it.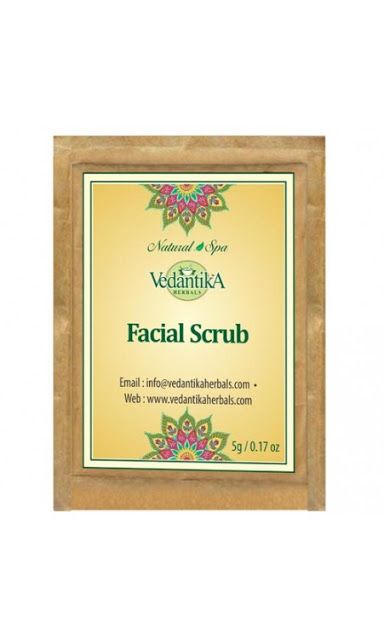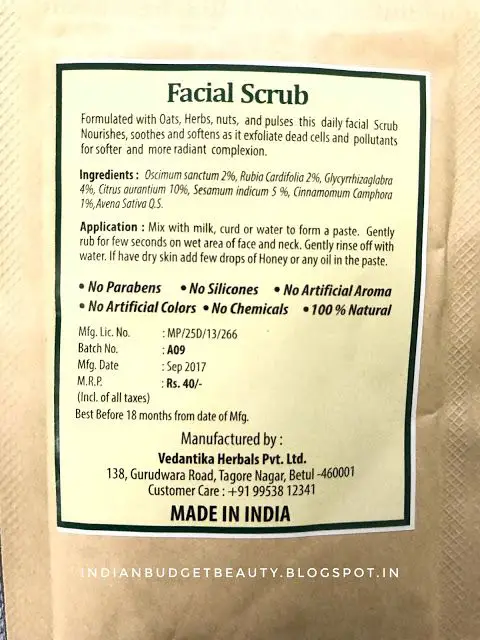 MY REVIEW ABOUT THE PRODUCT: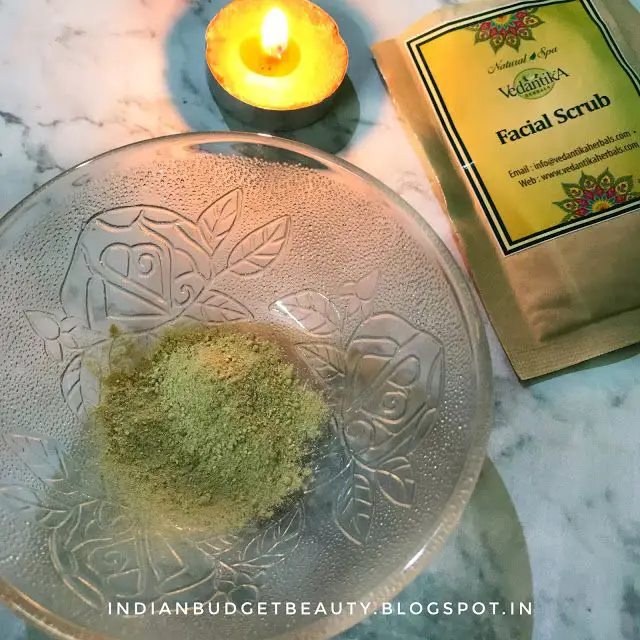 This Vedantika Herbals Facial Scrub is very finely milt. This single sachet can have at-least 3-4 usage depending upon your quantity. I've used this scrub along with rose water and then gently massaged my face for about 2 minutes and then I've rinsed it off. The first thing that I've noticed is that a) it's not at all drying, b) it made my skin brighter c) It has tightened my pores!   This scrub contains :
Oscimum Sanctum (Holy Basil) which possesses dermatological and anti-microbial qualities. It soothes inflammatory symptoms in the skin.
Glycyrrhizaglabra (Liquorice ) – It is very good for treating skin eruptions, because of their anti-inflammatory, anti-bacterial and antiseptic properties.
Avena Sativa (Oats) – Oats are soothing and emollient. Finely milled, their gentle exfoliation helps leave skin soft and smooth.
Sesamumindicum – It is rich in essential fatty acids like linoleic acid and palmitic acids & antioxidants, hence they are easily absorbed into the skin, nourishes it from deep inside and promotes skin softness
It thus holds true for all the claims it comes with. I've noticed my skin is a lot brighter. It did remove the dirt and oiliness and did not strip my skin's moisture
NOTE: I recommend that you use a toner or rose water to tone your face afterward, which increases the effective nature of the product.   
Related Review:
Vedantika Herbals Review: Neem Tulsi Aloe Face Wash REVIEW
Vedantika Herbals Ubton Review
PROS:
Moisturizing
Removes dirt
Brightens the skin
Tightens the pores
Super affordable
100% natural
Paraben Free
Silicone Free, 
No Artificial Aroma, 
No Artificial Chemicals, 
Non-comedogenic
CONS:
RATINGS: 4.5/5