Nelf USA 9 to 6 Lipstick Swatches & Review | Shade 13, 15, 20, 22, 23, 31
If you have been following me on Instagram, then you might have known that Nelf Cosmetics sent me a bunch of their products. So, these Nelf USA 9 to 6 All Day Long lipsticks were part of the PR kit.
PRICE: Rs.250
ABOUT THE BRAND:
NELF USA Cosmetics founded in the USA in 2014, named after an aspiration of women to look great in four leagues i.e. NAIL, EYE, LIPS & FACE, uniquely offers an exclusive collection of the enduring line of trendy makeup. Established in 2014 in India, "Redefining Beauty & Makeup" trends all over the country. With over more than 300 Promoter lead stores in 20 states of India, 3500 retail stores & having an online presence with all beauty portals, we have been awarded as "Popular International Cosmetic Brand" by "Popular Brand Awards" in 2015.
The entire color scheme is conceptualized, designed & created in consultation with USA Fashion & Colour experts. NELF USA also offers an extensive range of HD Makeup lines with over 1200 makeup shades, known for its rich pigments, high color payoff, skin-friendly & easy accessibility at all our stores. 
ABOUT THE PRODUCT:
Lipstick isn't just a lipstick anymore. Nelf brings you a stunning range of 36 high-performance shades that sit on your lips all day long. Enriched with Vitamin E that conditions your lips and softens them. Add some elegance and achieve smooth lips using these dazzling Nelf USA Super Lasting 9 to 6 lipsticks.
Creamy, moisturizing lipsticks enriched with Vitamin E
Conditions your lips and keeps them soft
Long-lasting staying power
PACKAGING: 
These lipsticks come in a slick matte black packaging. They have a different opening mechanism. You have to push the bullet through the top part of the lipstick and then you can twist the lipsticks according to your convenience.
They come in a cardboard packaging with great detailing. They are travel-friendly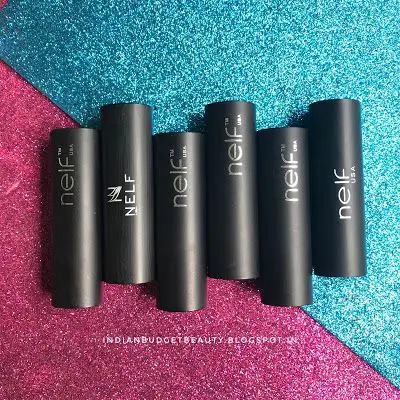 Nelf USA 9 to 6 Lipstick Swatches :
I have six of this Nelf USA Lipstick. They are available in 36 shades. Their shade range is available in pinks, neutrals, purples, orange, reds, browns.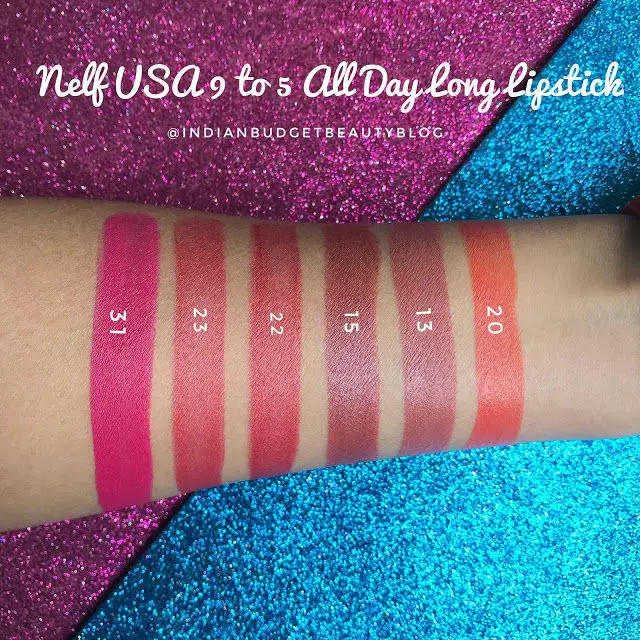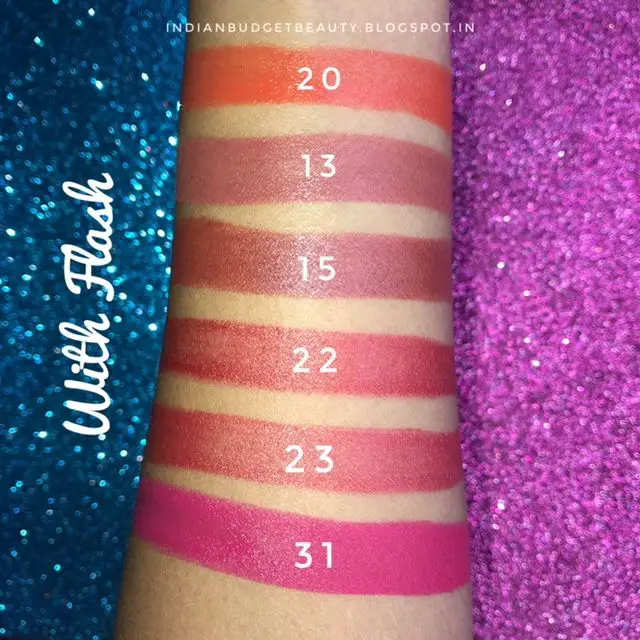 SHADE 20: This shade is a creamy orange color.
SHADE 13: This is a pinky-brown MLBB shade | BUY IT HERE |
SHADE 15: This is a browny neutral color with hints of shimmer | BUY IT HERE |
SHADE 22: Pinky-red color with shimmers
SHADE 23: Lighter than shade 22 | BUY IT HERE |
SHADE 31: Bright fuchsia pink with a semi-matte finish.
FINISH: They have a creamy finish, which does not dry your lips. They are Enriched with Vitamin E that conditions your lips and softens them  
STAYING POWER: 
These lipsticks stay for about 5-6 hours on the lips
ALSO READ: 7 Heaven's Photogenic Matte Lipstick in 302 Kisses Review
MY REVIEW ON THE PRODUCT:
These lipsticks have good pigmentation. All the shades give an opaque finish in one swipe. Some of them are very creamy while some of them have a semi-matte appearance. Overall these lipsticks are great and do not bleed. They wear off after 6 hours. Retouching may require after having a heavy meal.
Some of them contain a slight amount of shimmer which makes them reflect light and appear beautiful. If you love the shimmer in your lipsticks then you might go for the shimmery ones. But I prefer shimmers only on my lipglosses.
The only problem I had is with the packaging. It could have been better.

PROS:
Affordable
Good pigmentation
Long-lasting
Has a huge shade range
Creamy and hydrating
Lead-free
Paraben-Free
Dermatologically tested
CONS:
Packaging could have been better
RATINGS: 4.5/5      
If you loved this Nelf lipstick review, then also check out Nelf USA Peach Matte Loose Powder Review.
(Part Of PR kit)