Here's my Fuschia by Vkare Verve Face Mask Review. I haven't used any face mask for the longest time. So when this baby came in my mail, I was very excited to try it on. After 3 uses, I think I'm very much ready to review it for you guys.
INGREDIENTS:
Rose Water, Kaolin Light, China Clay, Glycerin, Aloe Vera, Bentonite Powder, Asparagus Powder, Kiwi Fruit dried Powder, Vitamin E
PRICE: Rs.450
Fuschia by VKare Verve Face Mask Review – Kiwi & Asparagus
PACKAGING:
I'm in love with this packaging. It's very travel friendly. The tub is made of good qualoty plastic and the tin lid gives this mask a lush look. Very Impressed!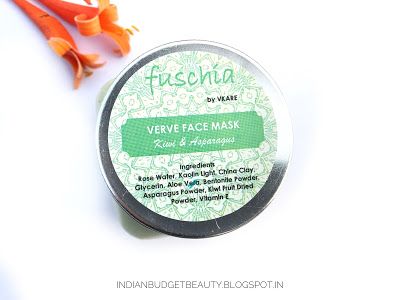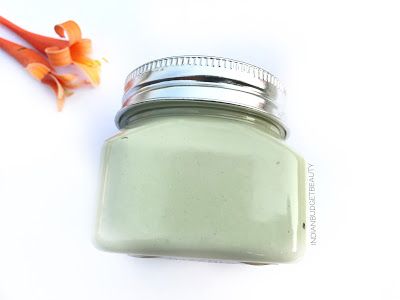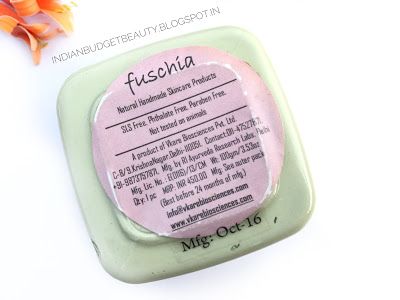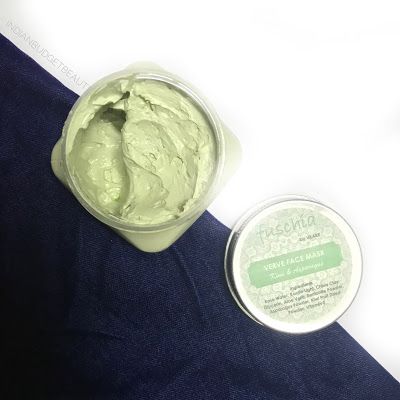 CLAIMS:
SLS free, Parabin Free, Phthalate Free, Not tested on Animals
BENEFITS: 
Rose Water: Rose water has anti-inflammatory properties that can help reduce the redness of irritated skin, get rid of acne. It cleans the skin from dirt accumulated in clogged pores
Kaolin Light/China Clay: Helps reducing the production of sebum. Increases blood circulation and purifies the skin
Glycerin: Moisturizes the skin and removes dirt from clogged pores.
Aloe Vera: It provides anti-inflammatory properties and heals the skin. It sooths and keeps your skin fresh.
Bentonite Clay: Smoothens the skin, reduces pores and sebum, gives a glow to your skin, evens complexion
Asparagus Powder: Cleanses the face and cures acne, improves complexion
Kiwi Powder: Rejuvenates skin, lightens dark circle, prevents sun damage, keeps skin firm.
Vitamin E: Is an antioxidant, reduces wrinkles, heals the skin and prevents scares
MY EXPERIENCE : 

First of all, the texture of this Fuschia by VKare Verve Face Mask is very thick and the fragrance is to die for. When you first apply it, you can feel a cooling sensation. It takes about 4-5 minutes to completely dry after which my skin felt like how a typical skin mask would have felt. I could not smile because of my skin. After I washed it off, trust me, you'd see the changes instantly, It brightened my complexion and my skin felt so soft and clean.

It's a very good mask, but don't try it if you have extremely dry skin. I'd totally recommend this to the oily skinned beauties as well as to the combination skinned ones.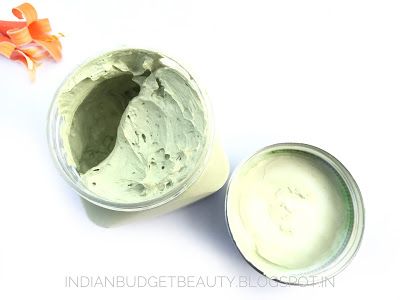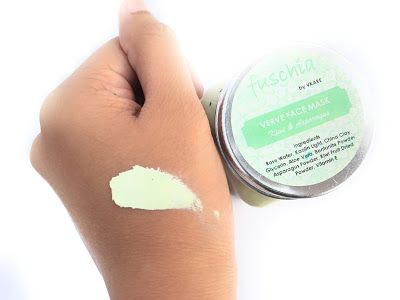 PROS:
SLS free,
 Parabin Free,
 Phthalate Free, 
Not tested on Animals
Removes dirt
Brightens complexion
Shrinks pores
Moisturizes the skin
Gives a cooling senstion
Smells Amazing
Travel Friendly
CONS:
Can be a bit drying for dry skinned people
RATINGS: 4/5 
Read More:
FUSCHIA by VKARE Cherry Care Hand & Nail Cream REVIEW
Good Vibes Face Mask Review – Activated Charcoal, Papaya, Green Tea, Havana Mango
The 5 Best DIY Face Masks For Acne Prone Skin & Acne Scars
MOND'SUB Gold Brightening, Moisturizing, & Antiwrinkle Face Mask REVIEW
4 Beetroot Face Packs For Rosy Glowing Skin
(Part Of PR Kit)