Hello everybody, today I'll be reviewing a mask pack from skin18.com. Recently Skin18.com sent me three face masks and a nose strip. Here's my Mirum Fresh Fruit Honey Natural Mask Pack Review. Mirum is a Korean skincare brand available at Skin18
ABOUT Skin18.com :

Pic Credits: skin18.com
INGRIDIENTS:

PRICE: $1.40 
MY REVIEW ABOUT THE PRODUCT:
PACKAGING:
The mask is made of 100% natural cotton which has well-designed carvings to make it attach to your face. The mask is packed in a plastic wrapper which is very hygienic. The mask is infused with essential ingredients and since the mask is made of natural cotton, it allows the ingredients to absorb into the skin.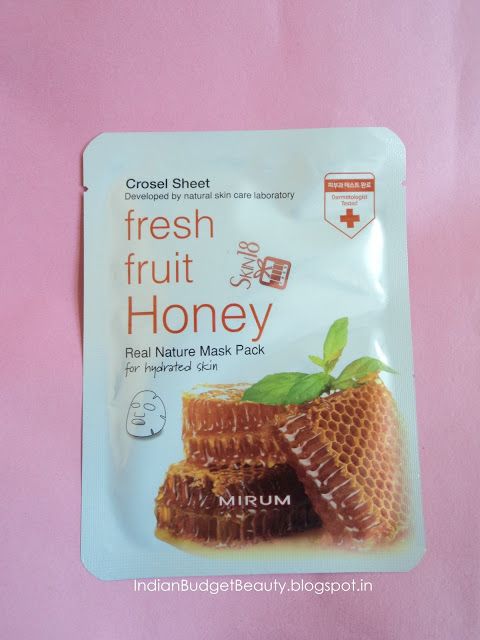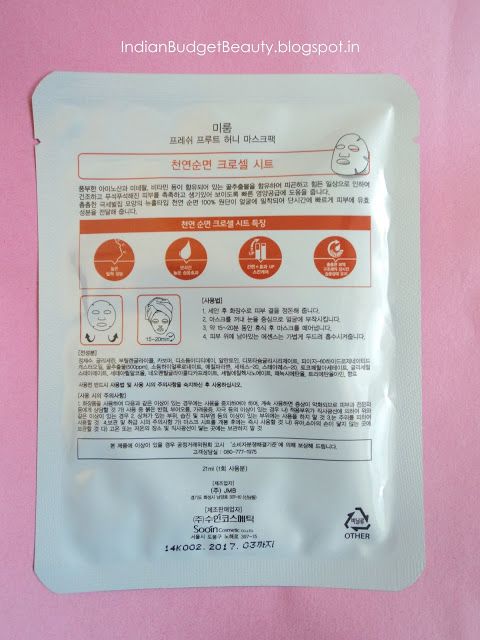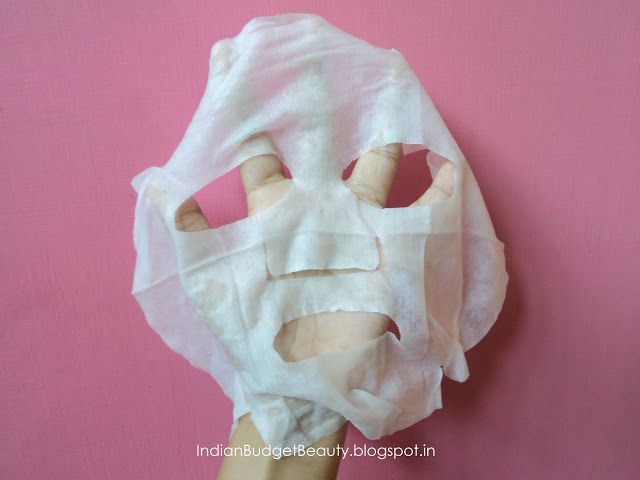 MAIN PURPOSE OF THE MASK: This mask is part of Mirum's fresh fruit series, its a hydrating sheet mask so it provides the skin with hydration and nutrition.
According to the ingredients, this mask contains glycerine, honey, castor oil; which helps in keeping the skin well hydrated, nourished, and makes your skin have a natural glow.
Main focus of the mask is on Honey! The mask smells like honey itself. 
It contains NO artificial pigment and Mineral oil. So its safe to use.
HOW TO USE: 
Cleanse your face.
Apply some toner.
Take out the mask & attach to you skin.
Leave it for 15-20 mins and the take off the mask and gently massage your skin with the remaining essence til it gets absorbed.
FINAL THOUGHTS ON THE PRODUCT:
To be honest, this is my first face mask, and my first Korean skincare product too. I had high expectations because we all heard how good Korean skincare products are. This one Good excellent! It kept my face well hydrated and it did not make my skin feel dry, even after sitting all day under AC! It made my face looking dewy and brightened it as well. It made me have a natural glow.    The only thing I don't like is that it contains Parabens 🙁   
WILL I RECOMMEND? Hell Yes! I totally recommend this product!
PROS:
Mask made of 100% cotton.
Contains NO artificial pigments and minerals
Gives skin a dewy finish & Healthy Glow
Keeps skin hydrated and nourished
Smells Good!
Inexpensive
Dermatological Tested
CONS:
RATINGS: 4/5
ALSO READ:
Mirum Fresh Fruit Avacado Real Natural Mask Review
LUKE Snail Essence Mask Review
Innisfree It's Real Squeeze Mask – Green Tea | REVIEW
Inoface Yoghurt Modeling Cup Pack Review
Soc 3D Beauty Serum Face Mask Pack (Lipidure) Review
L'affair Aloe Soothing 3 Step Skin Renewal Mask Review
(Part Of PR Kit)