A few days back I posted an Ethicare Remedies Haul. So after testing all the products for a good amount of period, here's my Cutishine Face Wash Review.
ABOUT THE BRAND:
Ethicare is the fastest growing pharmaceutical company in India with a 100% focus in dermatology and cosmetology. Founded in 2003 by a young and enthusiastic entrepreneur, Ilesh Khakkhar. The organization has been dedicated to innovation through new regimens, new medicine, new technologies and new ways to beautify the world.
ABOUT THE PRODUCT:
Face wash for daily cleansing.
Oily-Acne prone skin
Improved Complexion.
INGRIDIENTS:
Key Ingredients:
Glycolic Acid………..02.00%
Salicylic Acid……….00.50%
Liquorice Extract….01.00%
Tea tree Oil………….00.50%
Aloe Vera…………….02.00%
PRICE: Rs.180 for 70g
MY REVIEW ABOUT THE PRODUCT:
PACKAGING:
The packaging of this face wash is very sleek. The Cutishine face wash comes in a transparent tube and is placed in cardboard golden-colored packaging with all the details on it.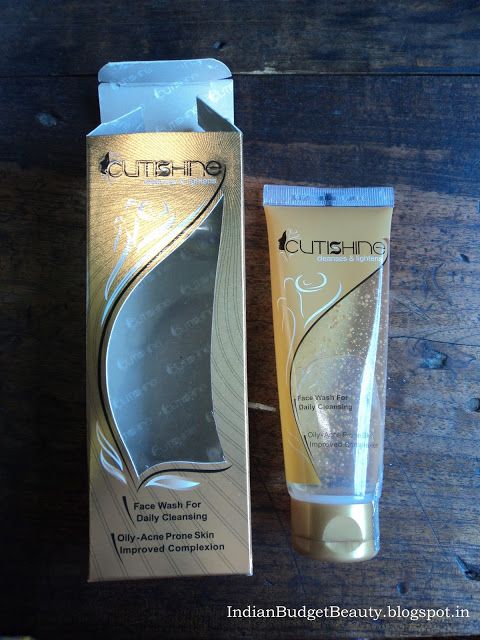 CONSISTENCY & TEXTURE:
The face wash is gel-like in consistency and is not so thick but in between runny and thick. It contains yellow and white tiny bead-like structures which help in light exfoliating the skin.
MY THOUGHTS ON THE PRODUCT:
This face wash is true to its claims. It does cleanse excess Sebum (oil) & dirt. It makes my skin feel very clean and instantly brightens my complexion. It does a little something to improve the skin texture too.    This face wash is   
soap free
formulated with gentle cleanser.
contains tea tree oil & aloe vera, which provide action against bacteria.
contains glycolic acid which helps soften and exfoliate the skin. It helps reduce the appearance of fine lines, wrinkles, and other signs of ageing while clarifying the skin and smoothing out rough texture.
contains Salicyclic acid to get rid of acne you have now and help prevent future breakouts.
contains Liquorice extract which helps in skin lightening.
PROS:
Soap free.
Exfloliates the skin gently
Contains amazing key ingridients.
Helps to soften the skin
Gets rid of acne.
Helps in skin lightening (I am not a fan of skin lightening but I'm considering in terms of spots and patches)
Contains Tea tree oil & aloe vera to provide action against bacteria.
CONS:
Could not find any. Feel free to judge at the comments below 🙂
RATINGS: 5/5 
(Part Of PR Kit)