Fasderma Glow Peel is an at-home instant skin peel treatment that helps in skin tightening and skin brightening. An average skin peel treatment can cost you around Rs.1500 to Rs.3000 and even more per visit. This party facial peel can be done at the comfort of your home and costs Rs.2000 for 15ml. You can buy this Fasderma Glow Peel from the link given at the bottom of the post.
What is a Skin Peel Treatment?
During Skin Peel Treatment, a chemical peel is applied which helps in resurfacing the skin by taking away the dead skin on top. It reveals younger-looking and smoother skin. It is mainly done to treat skin discoloration, wrinkles, and scar.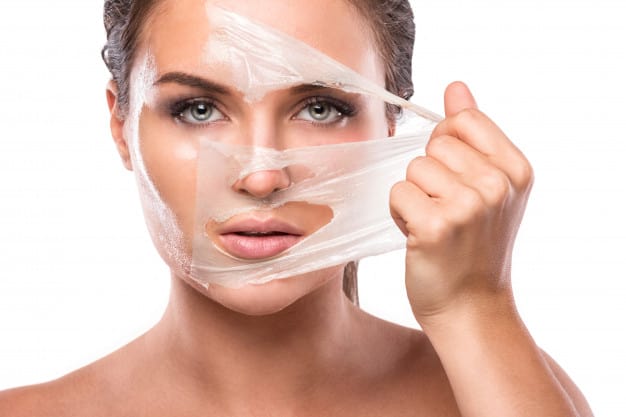 About The Fasderma Glow Peel
Fasderma Glow Peel is used for Glowing, Brightening and Tightening the Skin. This product can be used three times a week to maintain the Elasticity of the skin. But if you are starting with a skin care peel, do start it with once a week and then gradually increase to 2-3 times a week as your skin gets used to it.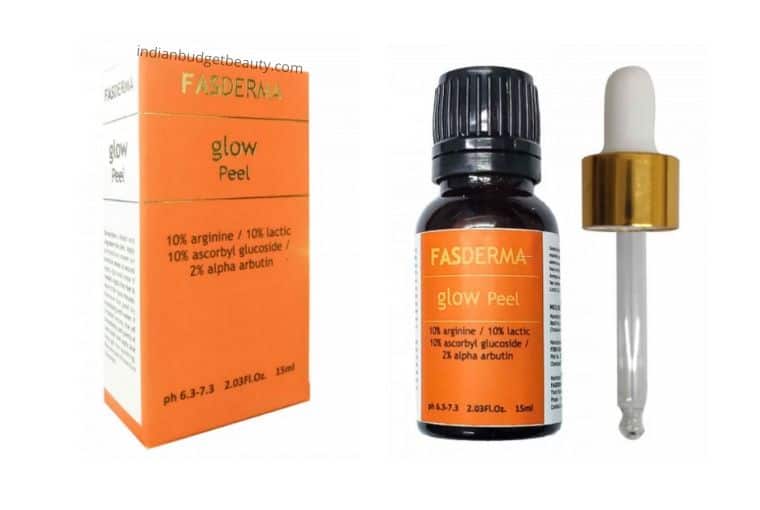 Ingredient List
Aqua / Water,  Hyaluronic Acid, Arginine, Lactic, Alpha Arbutin, Glycerin, Lecithin, Propanediol, Alcohol Denat., Ascorbyl Glucoside, Panthenol, Sodium Hyaluronate, Trideceth-9, PEG-40 Hydrogenated Castor Oil, Phenoxyethanol, Propylene Glycol, Polysorbate 20, Xanthan Gum, Sodium Chloride, D-Limonene, Sodium Cholate, Caprylyl Glycol, Tocopherol, Ethylhexylglycerin, Sodium Hydroxide, Morus Alba Fruit Extract, Retinyl Palmitate, Potassium Sorbate, Citrus Aurantium Dulcis Peel Oil Expressed, Linalool, Citral.
It is a water-based skin peel that contains 10% arginine, 10% lactic, 10% ascorbyl glucoside, and 2% alpha-arbutin as its key ingredients. It also contains Ascorbyl Glucoside and Hyaluronic acid high up in the list. Ascorbyl Glucoside is a stable form of Vitamin C and one of the best ingredients that function as an antioxidant and help in improving uneven skin tone or spots. Hyaluronic Acid helps to boost the skin's moisture content, soothe, and defend against moisture loss.
What Is It Used For?
Skin brightening
Skin Tightening
Skin Glow
Why Use The Fasderma Glow Peel?
Easy skin peel at the comfort of your house that gives a facial like glow
Time-saving, as you don't need to go to any salon to get it done
Helps in treating fine lines and wrinkles
Helps in minimizing pores
How To Use The Fasderma Glow Peel?
Wash and cleanse the skin
Apply Glow Peel & leave it for 15-20 minutes
Remove the peel by neutralizing with water
If irritation occurs, rinse off immediately with plenty of cold water and apply aloe vera gel for soothing
MUST USE: A protective Sunscreen must after using the peel because it contains Lactic acid that makes your skin photosensitive
You can use it at any time of the day, just leave it for 20-30 minutes and then wash it out gently. But the ideal time to use any chemical peel is at night
You might ask will it come out as a complete peel like a charcoal mask or it is supposed to be washed delicately with water and the answer is: We must wash it gently and make sure to not use soap or face wash for 24 hours for better results.
Many of us might have doubts for how long one must use for desired results and if once stopped using, will the skin tone and glow gets back to initial? Well you must start with 1 time a week and then gradually increase it to 2 times a week.
Also, Glow Peel can be used if someone is already using a Face serum in their skincare routine.
Related Posts: