Hey! Today I'll be reviewing the newly launched (sorry received this way back but was testing it) Banjara's Skin +ve Body Lotion from Banjara's Skin +ve range 

ABOUT THE BRAND:
Brand Banjara's was launched in 1993 with a line of products predominantly comprising herbal powders. The aim was to provide quality herbal powders for beauty care in a largely unorganized category.
Banjara's Skin +ve Body Lotion Review
PRICE: Rs.80 for 100 ml | Buy Here
ABOUT THE PRODUCT:
Banjara's Skin +ve Body Lotion adds to your natural beauty by making it healthy, youthful and flawless from within. Enriched with Pomegranate, Honey, and Butters, it is a one-stop solution for your skincare. Promenade protects the skin from aging rapidly due to moisture loss and accelerates the skin repair process. honey rejuvenates and softens the skin. infused with Shea butter and Kokum butter, this lotion gives you a silky smooth skin.

Suitable for all skin types and all seasons.
INGREDIENTS:
Key Ingredients: Sunflower oil, Kokum butter, Shea butter, Pomegranate fruit extract, Honey, Castor oil, Yashad Bhasma
Each g contains sunflower (Helianthus annuus) oil 4%, Kokum ( Garcinia Indica) butter 2%, Shea (Vitellaria paradoxa) butter 2%, Pomegranate (Punica granatum) fruit extract 1%, Honey 0.5%, Castor (Ricinus communis) oil 0.5%, Yashad Bhasma (Zinc Oxide) 0.2%, Cream Base Q.S.

MY REVIEW ABOUT THE PRODUCT:
PACKAGING: The lotion comes in a standard plastic bottle with a sturdy red cap. The front side of the bottle has the company graphics and the backside contains the ingredients and all the essential details.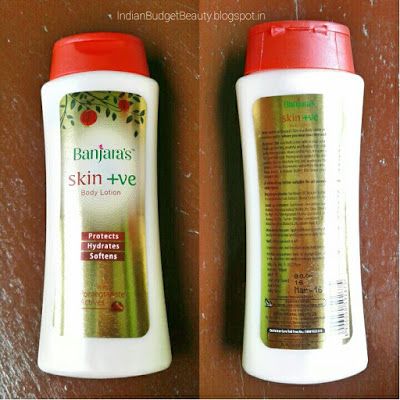 CONSISTENCY & COLOUR: The lotion has a pink hint to it and feels very light on the skin.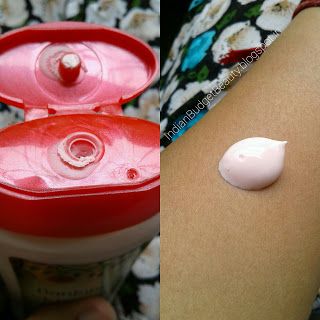 MY THOUGHTS ON THE PRODUCT: The product claims to "Protect, Hydrate & Soften". 
This lotion contains 'Yashad Bhasma (Zinc Oxide)'  which is unique among sunscreen ingredients in that it is truly a broad-spectrum blocker, protecting from UVA, UVB, and even UVC. So it protects the skin.
The lotion feels very fresh on the skin. It has a quite pleasant fragrance to it which remains for quite a long time. It really keeps the skin 'hydrated'.
As soon as you apply the lotion, you feel a cooling sensation. It does make your skin soft and keeps it hydrated for about 4-5 hours.
The only thing I don't like about the product is the packaging, especially the red cap It could have been a bit better. 
Also Read: Banjara's skin +ve Beauty Cream
PROS:
Contains NO chemicals
Protects from the sun
Has a pleasant fragrance
Contains only herbal products
Keeps the skin hydrated and makes them softer
CONS:
RATINGS: 4.8 out of 5
(Part of PR sample kit)