Recently, I've reviewed the Mamaearth Vitamin C Sleeping Mask and I've mentioned this Mamaearth C3 Face Mask there. I got both of these masks during the BOGO sale because I was intrigued by this Mamaearth Face Mask. Everybody was raving about it, so I wanted to try it out. Here's my experience with this mask.
About The Product:
Mamaearth C3 face mask sucks out all the impurities from the skin and makes it glowing. It contains activated charcoal that gets rids of excess oil whereas coffee exfoliates and removes dead skin cells. Kaolin clay acts on acne and keeps them away whereas bentonite clay treats scars that are left behind. Dermatologically tested and free of sulfates, paraben, silicones, SLS, PEGs, animal-derived ingredients, and synthetic fragrances.
---
Price: Rs.599 for 100g
---
INGREDIENT BREAKDOWN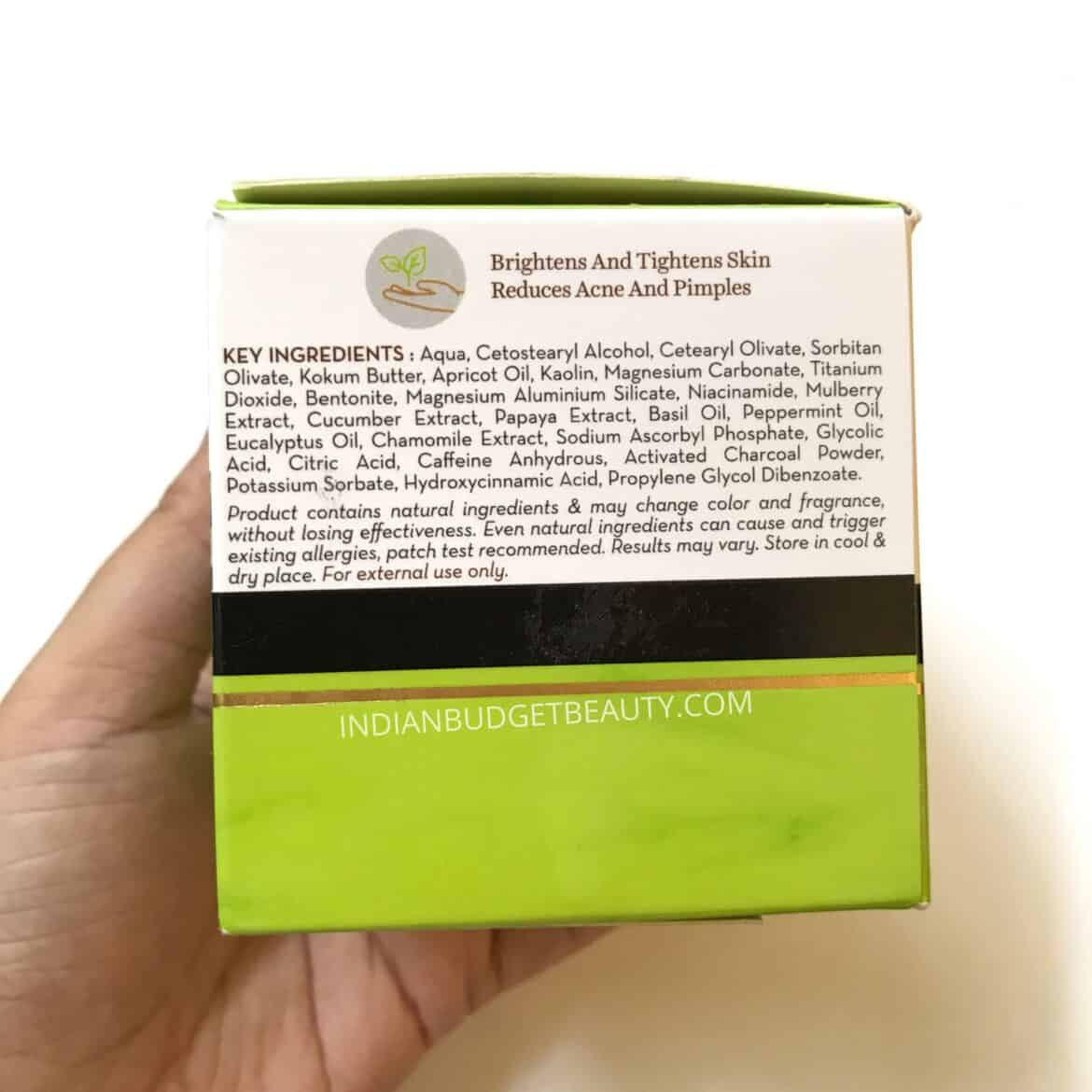 If you look into the ingredients, you would notice that the first 6 ingredients do not contain Charcoal, Coffee, or Clay like it has been marketed.
It contains some of the best ingredients like Shea Butter, Niacinamide, Glycolic Acid, Vitamin C but it also contains few essential oils which are mainly used for fragrance.
If you have acne-prone skin and do not want a product with essential oils like Basil Oil, Peppermint Oil, Eucalyptus Oil, you might have to rethink before buying this
---
Mamaearth C3 Face Mask Review
---
PACKAGING: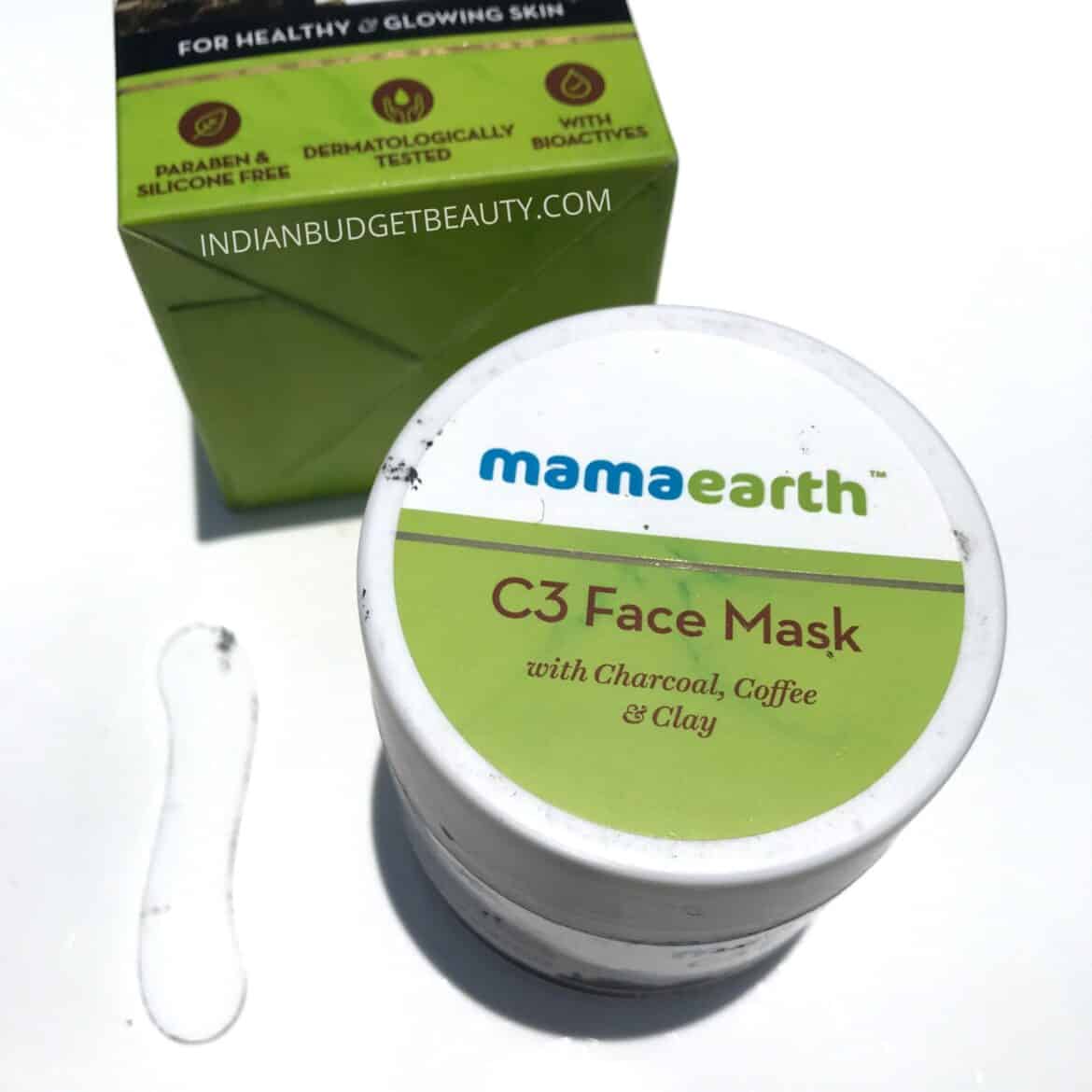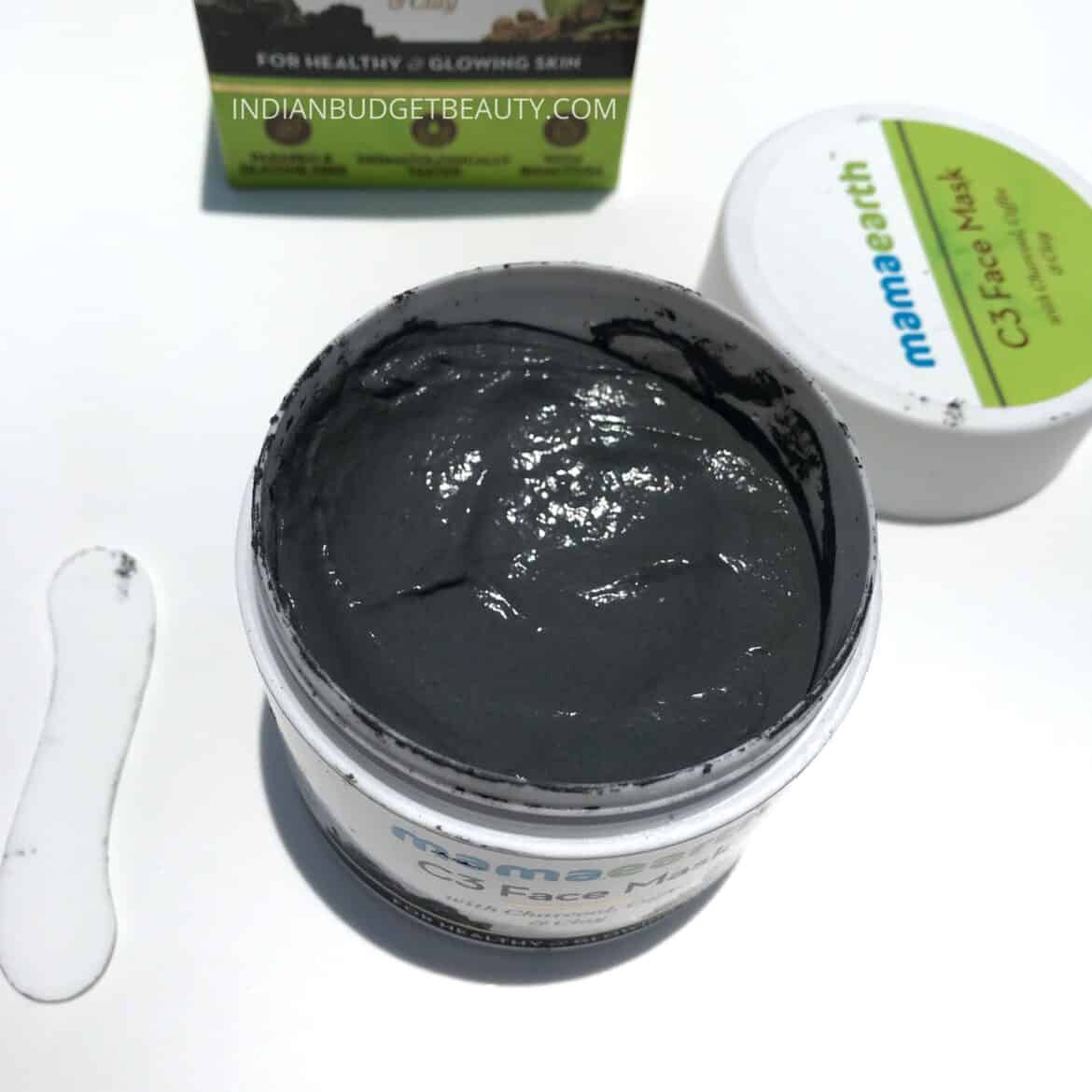 The packaging is almost similar to Mamaearth masks. The mask comes in a large plain plastic tub that also has an outer cardboard packaging. You also get an applicator. But I prefer using my fingers for applying this mask as the applicator doesn't spread the product well.
I'm not a big fan of the packaging, but it does the job well in keeping the product intact. The bulky packaging will not be travel friendly.
CONSISTENCY, TEXTURE & FRAGRANCE OF THE MASK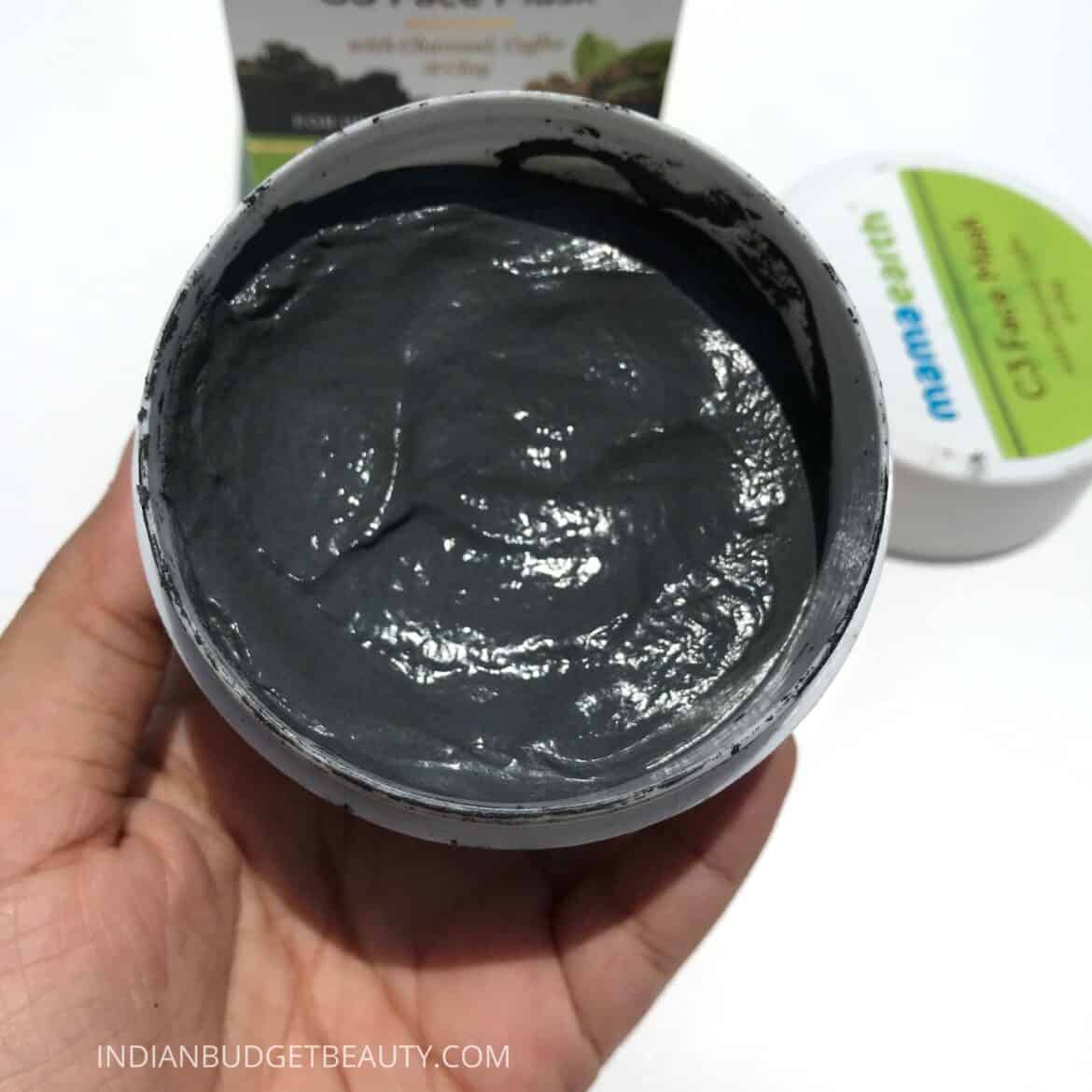 This Mamaearth C3 Face Mask has a very thick consistency. The texture is almost similar to the Good Vibes Charcoal Mask but this Mamaearth face mask has a bit of gritty texture while the Good Vibes Mask has a smoother texture.
Coming to the fragrance, this Mama Earth C3 Face Mask has a heavy minty scent, which I believe is due to the presence of Peppermint Oil in it. This mask is heavily fragranced and it totally gives me a headache. I wish they would have cut down the fragranced essential oils, then this mask would have been one of my favorites.
How To Use Mamaearth C3 Face Mask
Wash your face with your favorite face wash
Dab you face dry and then apply a generous layer of the face mask on clean skin
Keep it for 15 minutes, gently scrub and wash off the mask with lukewarm water
My Experience With The Mamaearth C3 Face Mask
After I've applied this mask, I felt a cooling sensation and a very strong minty scent. The scent was too overboard and if you have a sensitive nose like me then it will be difficult for you to put on this mask for 15 minutes.
I kept the mask for 15 minutes like it was instructed, then I've gently rub the mask by using water to exfoliate the skin. It have a slight gritty texture so it also helps in exfoliating the skin.
I did notice that it made my skin brighter and softer on the first usage but I even felt that effect while using my Good Vibes Charcoal Mask and its half the price. But I do like the Mamaearth C3 Face Mask more than the Good Vibes Mask.
Despite being a clay mask, it did not make my skin dry and helped in pulling all the excess oils from my face. My face felt fresh. I've used this mask twice a week for 3 weeks and I did not notice any effect on my acne or any scar removal like it claimed.
Overall, its a good mask but I wished it was free of essential oils that makes it super fragrance-d. The only thing I hate about this mask is the fragrance (essential oils). I cannot tolerate that fragrance, it too strong that it gives a me headache.
---
Pros
Makes your skin brighter and softer
Helps in pulling out excess oil
Does not dry down your skin
Helps in keeping your face fresh
Comes with an applicator
Secure Packaging
Cons
Contains essential oils
The fragrance is too strong that it gives me a headache
Did nothing to soothe down acne or scar removal
Mamaearth C3 Face Mask
Final Verdict
I like this mask but I cannot stand the fragrance. It helps in making my face brighter and softer. This mask does not dry down my skin and helps in deeply cleaning out any oil and dirt. But if you have acne-prone skin or a sensitive nose then I'd not recommend it to you as it contains essential oils and has a strong fragrance. The Mamaearth C3 Face Mask is NOT a must-have product. You can try it out if you want. If you don't have any problem with essential oils or strong minty fragrance, then you can go ahead and purchase this. 
---
PIN THESE IMAGES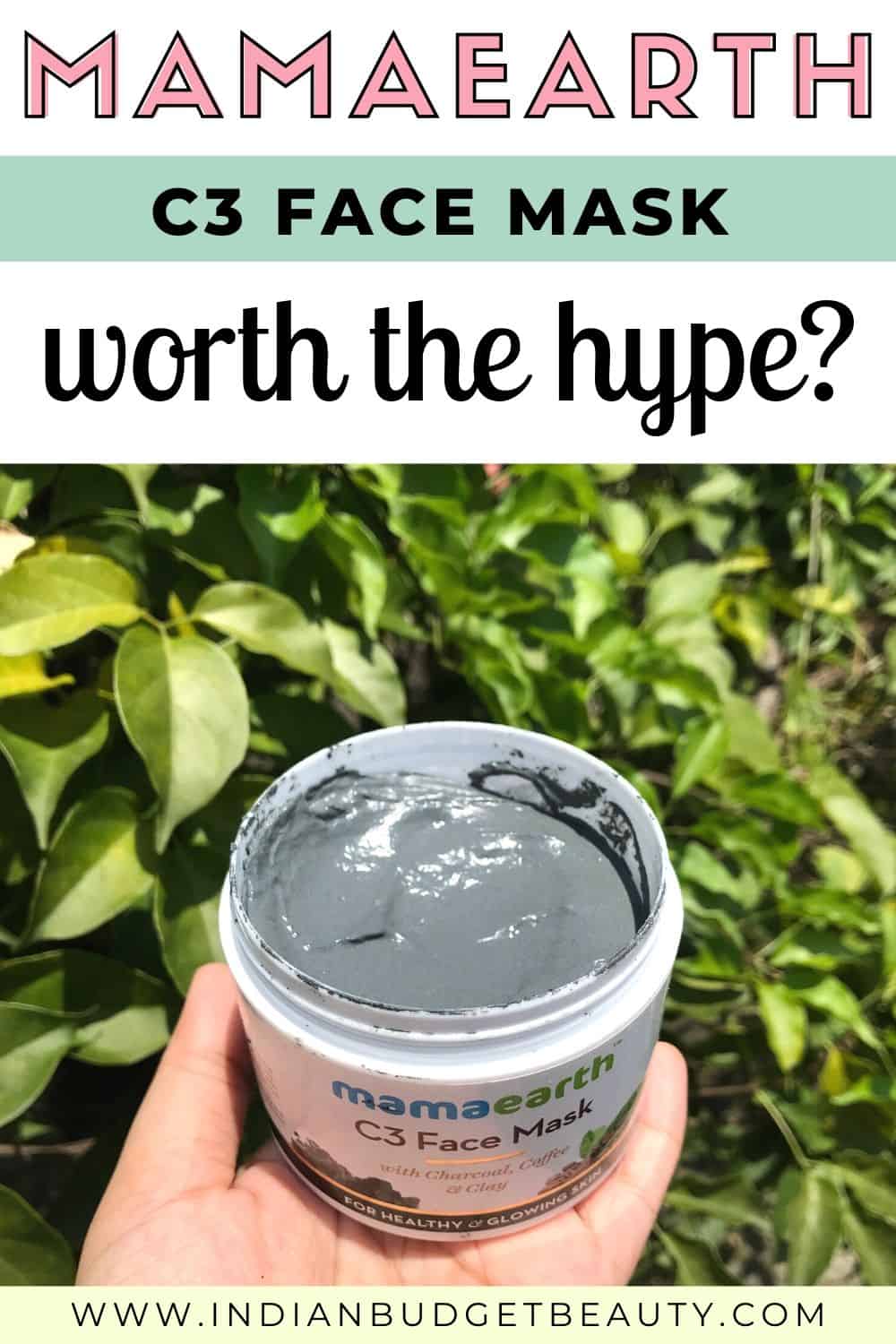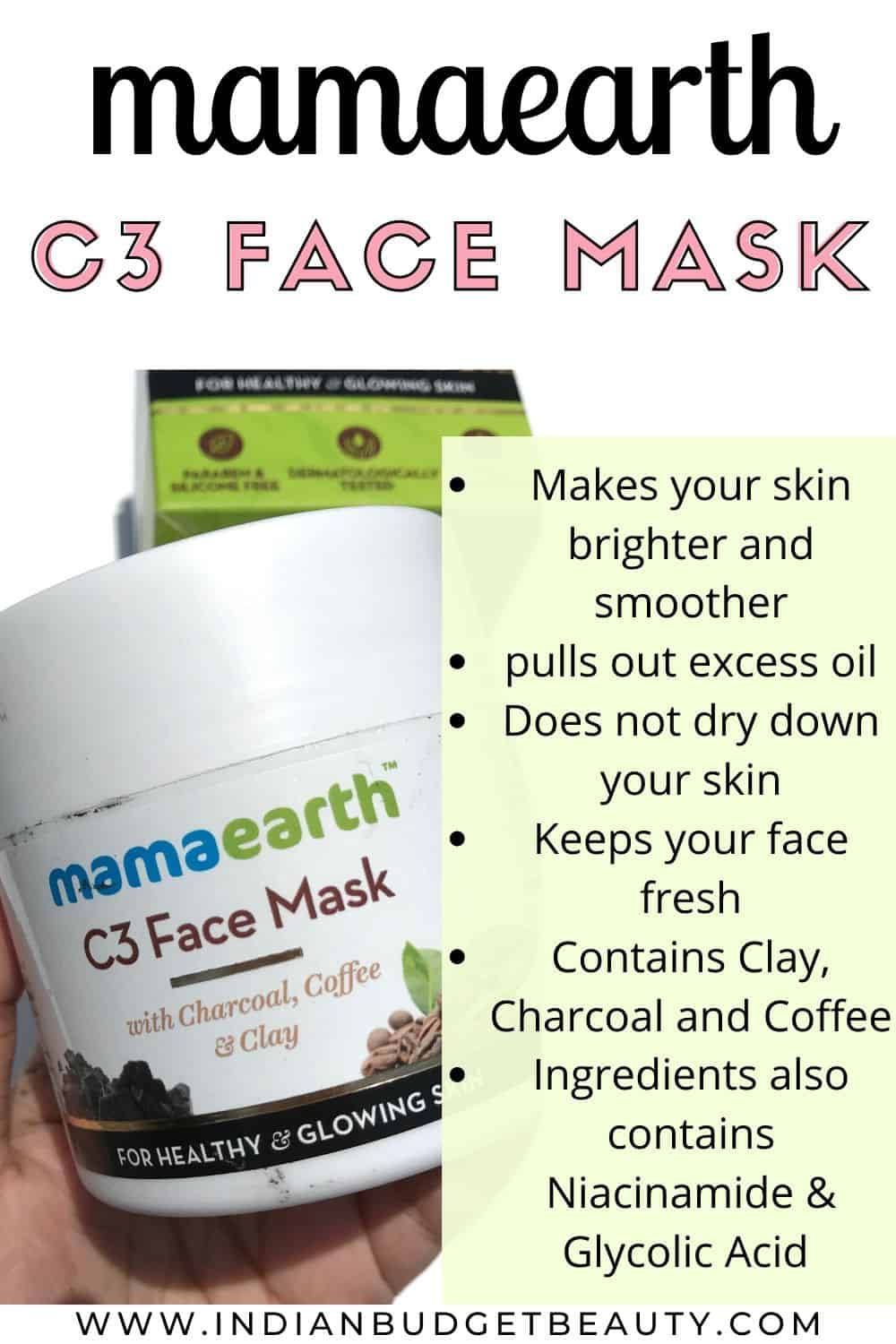 ---
Related Reviews: