Maybelline SUPERSTAY Full Coverage Foundation Review | 220 Natural Beige    
Maybelline New York Super Stay 24H Full Coverage Liquid Foundation was launched in India recently. I ordered it up the day it was launched and was trying it out for the past couple of months. This foundation claims to be a 24hr, long-lasting, full coverage foundation that has a light-weight consistency. So, let us see whether these claims are true or not!  
Maybelline SUPERSTAY Full Coverage Foundation Review
INGREDIENTS:
PRICE: Rs. 750 for 30 ml  ($11.99)
Buy It Here: Amazon, Nykaa, ULTA
Packaging: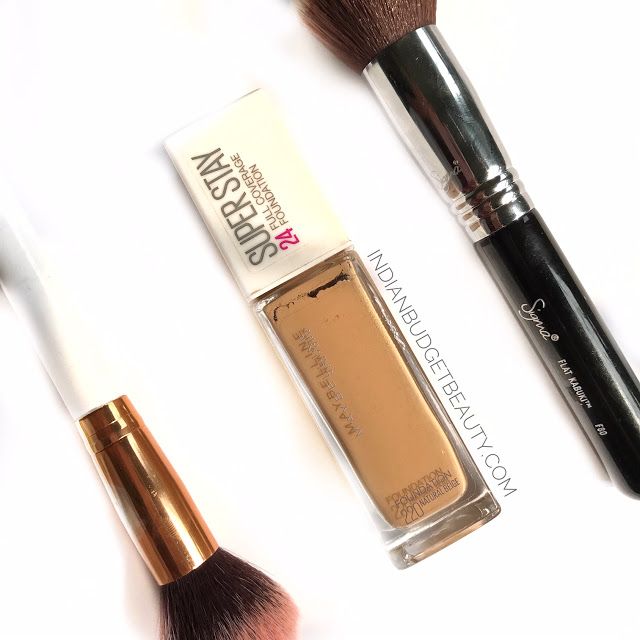 Maybelline Super Stay Foundation comes in a classy glass bottle with a pump. It has a sturdy cap that clicks back and stays in place. I really loved the fact that this foundation has a pump which allows us the control the amount of product we need to dispense. This is not travel-friendly as the bottle is made of glass but it does look and feel very luxe. 

You might know that Maybelline Fit Me Foundation is one of my favorite drugstore foundations but it does lack a pump. So, when this foundation came with a pump, I was pretty happy about it.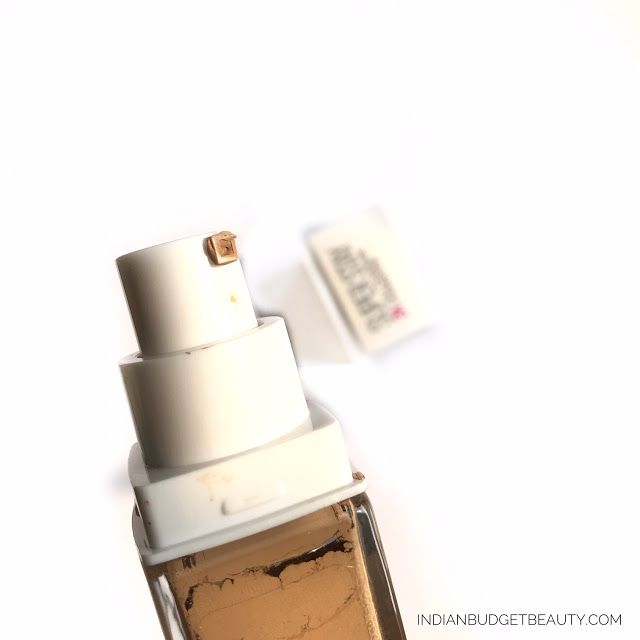 Maybelline SUPERSTAY Full Coverage Foundation Shades:
In India, only 9 shades are available. But in the US, this foundation is available in 28 shades. But, some shades from the Fit Me range do not have a corresponding shade in the Superstay range. I got the Maybelline Superstay foundation 220 in this range, but I am 230 in Maybelline Fit Me range
CONSISTENCY & TEXTURE:
The consistency is neither too runny nor too thick. It has a perfect texture which is easily blendable. It gets spread easily and be blended using a sponge or a makeup brush. I personally prefer my Sigma HD Kabuki Brush to get that Full Coverage look.  
Note: This foundation works better with a brush than with a sponge.
Maybelline SUPERSTAY Full Coverage Foundation SWATCHES: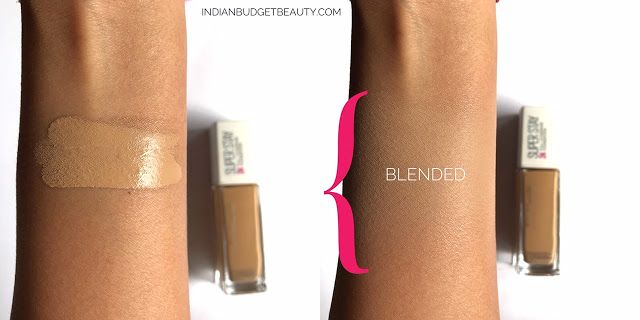 On the above picture, you can see the swatch of the shade 220 Natural Beige which has neutral undertones to it. This shade matches me perfectly! It is my winter shade.
But since this foundation oxidizes, so it totally becomes my perfect shade for medium skin tones. After blending, it gives a full-on matte finish which can be a problem for people with dry skin.
Below are three of my Maybelline Foundations all swatched and compared with Maybelline Superstay Foundation 220:
Maybelline SUPERSTAY Full Coverage Foundation Shade Comparison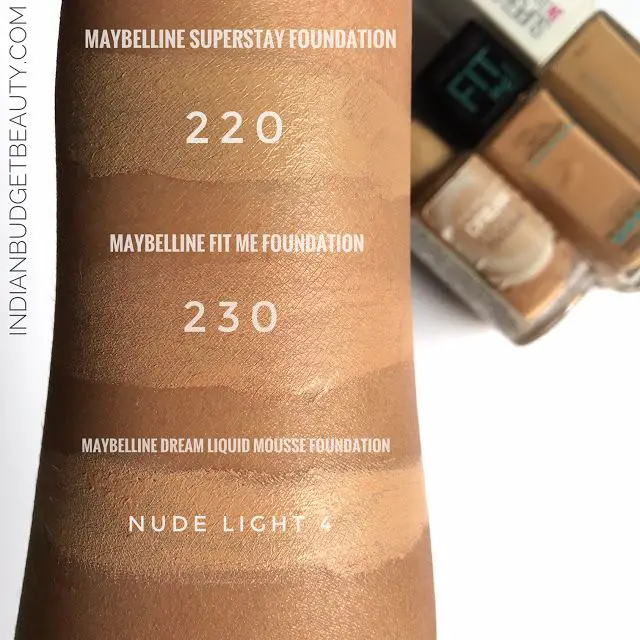 MY FINAL THOUGHTS ON THE PRODUCT:
Maybelline SUPERSTAY Full Coverage Foundation is an ultra-matte foundation that sets very quickly. Once it is set, it does not budge at all. I've tried it with my Wet n Wild Dewy Primer and it did make this foundation have a healthy glow to it. I've even tried with my Colorbar Perfect Match Primer which made the foundation glide on smoothly. I'd advise everyone to prime your face before application so that it does not settle into your pores.  
It is transfer-proof so once it sets, it stays in place for a long time. I haven't tried it on for 24 hours but I did use it for 7 hours and even after 7 hours, my base game was strong. All you need is a pump and a half of this for your full face.
Coming to the coverage, it gives full coverage finish when used with a brush, but beauty sponge will sheer it out a bit. You can even use your fingers to blend the foundation without any streaks or finger marks. I'm absolutely in love with the coverage and finish of it.  
I'd suggest that you choose a shade lighter than your skin tone as this foundation tend to oxidize after some time. Overall, I'd also suggest that you prep your skin before application as this is a matte foundation. It does not give flashback so it is great for flash photography.  
Coming to the cons, I'd not suggest layering this foundation as it may make you look cakey. Since it is an extremely matte foundation, you would have to hydrate your skin well. One tip to avoid the cakey look is to set your face with a makeup setting spray after your full face of glam.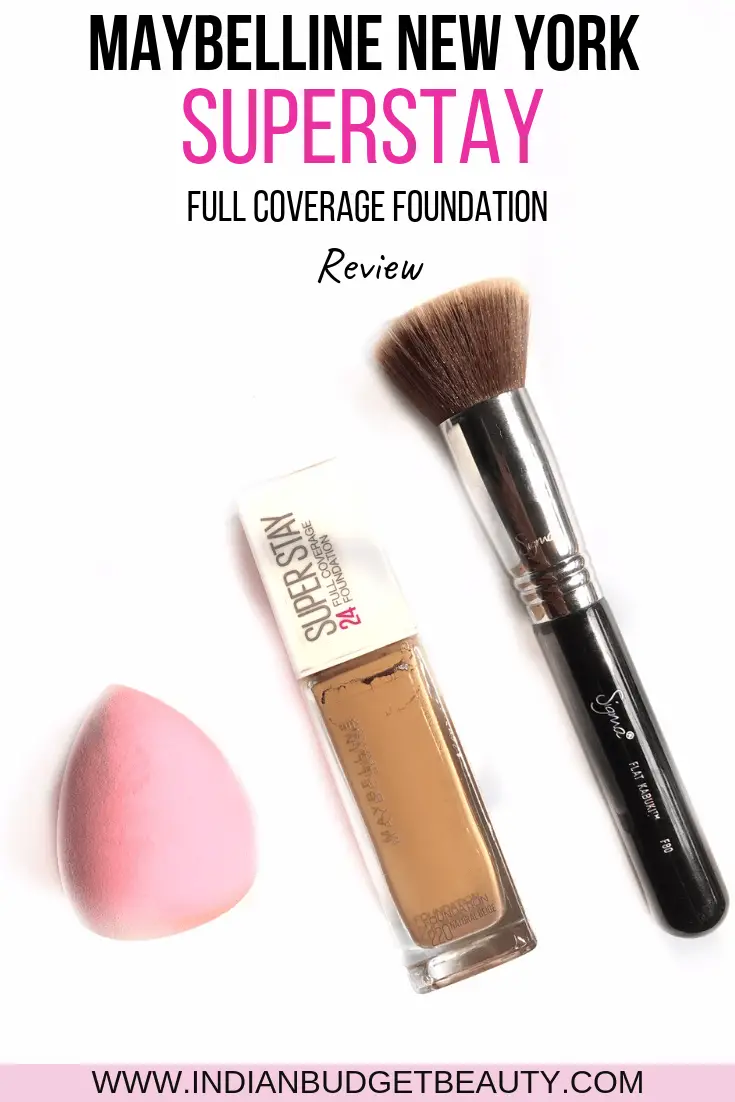 PROS:
Gives full coverage
Blends easily
Long-lasting
Super Matte
Water resistant
It does not budge at all after setting.
Transfer-proof
Sets quickly
Does not settle into your pores
Need a small amount of product
Comes with a pump
Easily available
CONS:
Can get cakey if you try to layer it up
It can be too drying for people with dry skin.
The packaging is not travel-friendly
Maybelline is not cruelty-free 🙁
RATINGS: 4.5/5
FAQs
Which is better Maybelline Superstay vs fit me?
Personally I feel Maybelline Superstay is better than FIT ME in terms of coverage, finish and logevity. If you like medium coverage, light weight foundation than you should go for FIT ME. But if you want only one foundation that can do it all, go for Maybelline Superstay as you can control the amount of coverage that you want.
Does Maybelline Superstay full coverage foundation oxidize?
Yes, Maybelline Superstay full coverage foundation does oxidize
Is Maybelline Superstay waterproof?
Maybelline Superstay foundation is not waterproof, but it is water resistant.
Does Maybelline Superstay have SPF??
Maybelline Superstay does not have SPF in it, so it is great for flash photography
Does Maybelline Superstay have flashback?
No, Maybelline Superstay do not give a flashback
CHECK THESE OUT