7 Heaven Photogenic Matte Lipstick 302 Kisses Review! Affordability has different meanings for different persons. In my opinion, anything under Rs.500 is affordable. So when I stumbled upon this 7 Heaven Lipstick, I was elated! Imagine the joy of a college student when she finds a 1) 'matte' lipstick under Rs.500 and 2) a trending color. I jumped at the opportunity, literally grabbed the lipstick (lol) since it was the only piece available. So, no more blabbering, let's just start with my review!
INGREDIENTS:

PACKAGING:
The 7 heaven photogenic matte lipstick comes in a black case with white detailing. The packaging is very sleek and travel-friendly. This lipstick is color coordinated and the best part is that the color-coordinated cap is removable and contains the color as well.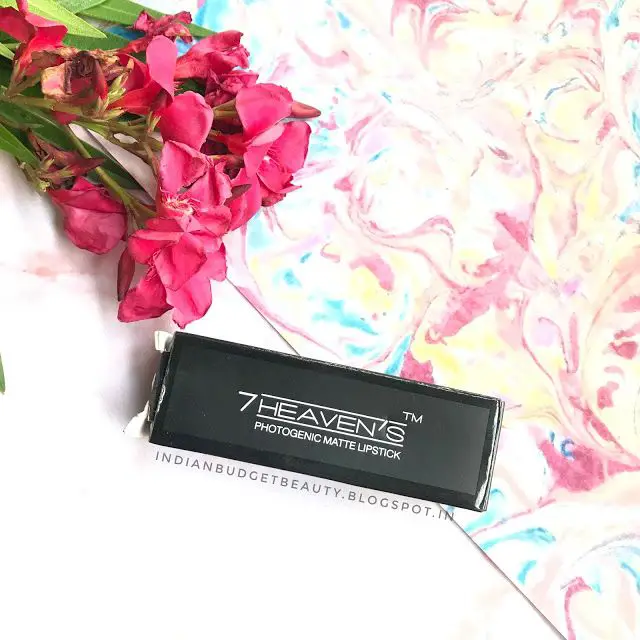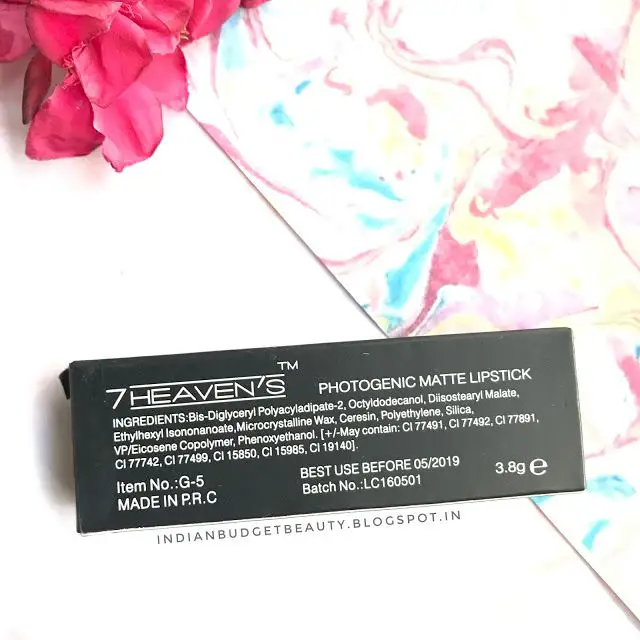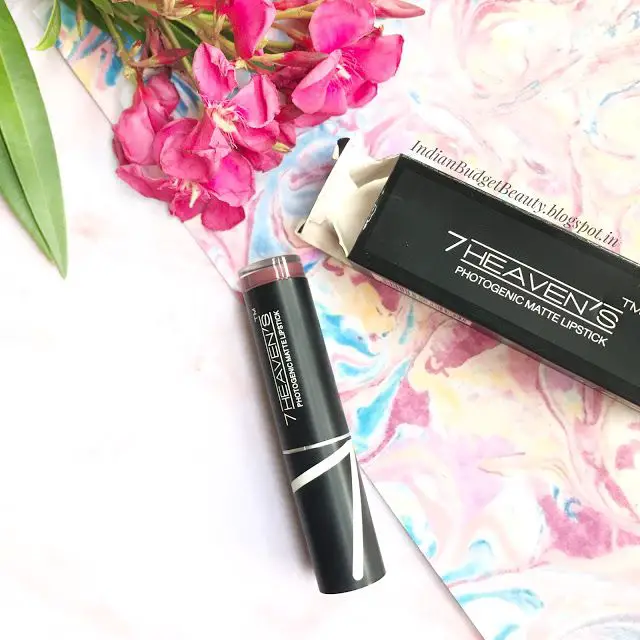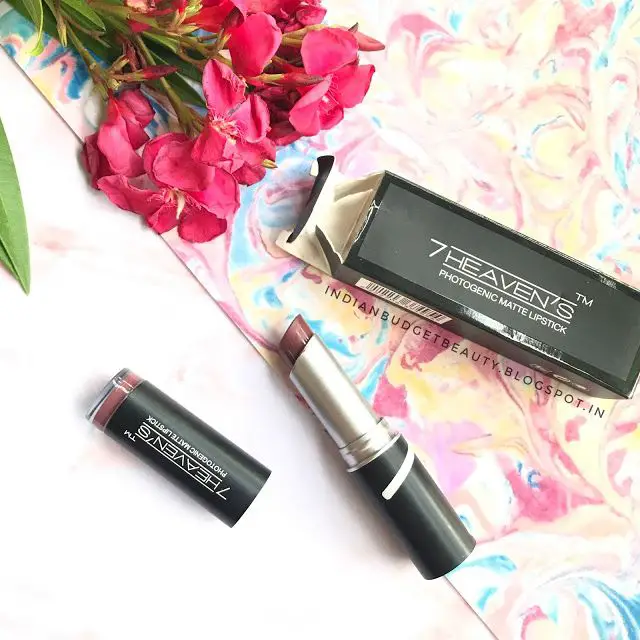 TEXTURE:
This 7 Heaven Photogenic Matte Lipstick is super matte! Since it is super matte it doesn't glide onto your lips easily, you have to apply pressure. But after applying this lipstick, it's very comfortable on the lips though.  
Tip: Prep your lips prior to applying this (or any matte) lipstick. Use a lip balm and after 3-5 mins remove the excess balm. In this way, your lipstick won't dry out your lips.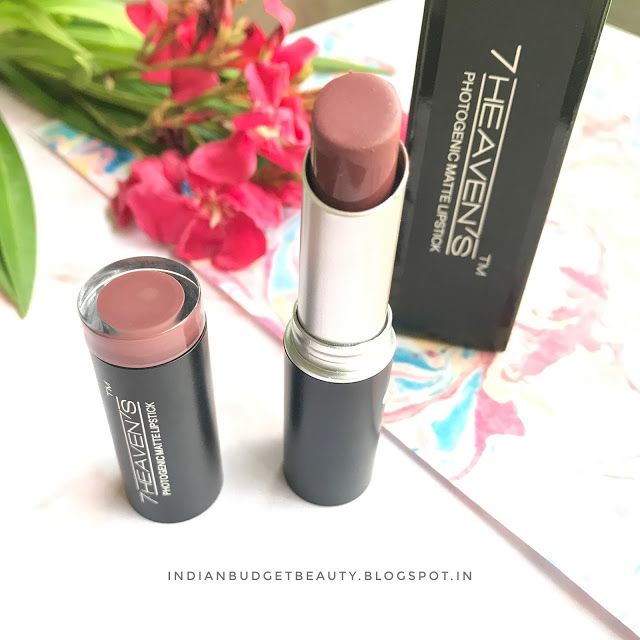 COLOR & SWATCH:
This lipstick is a mauve color with maroon undertones. It's very 'in trend' color and would suit fair-tan medium skin tones. Its an everyday lip shade!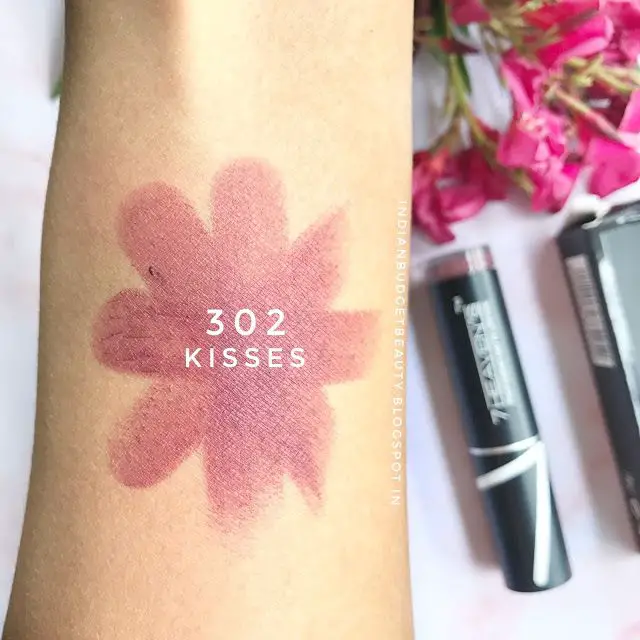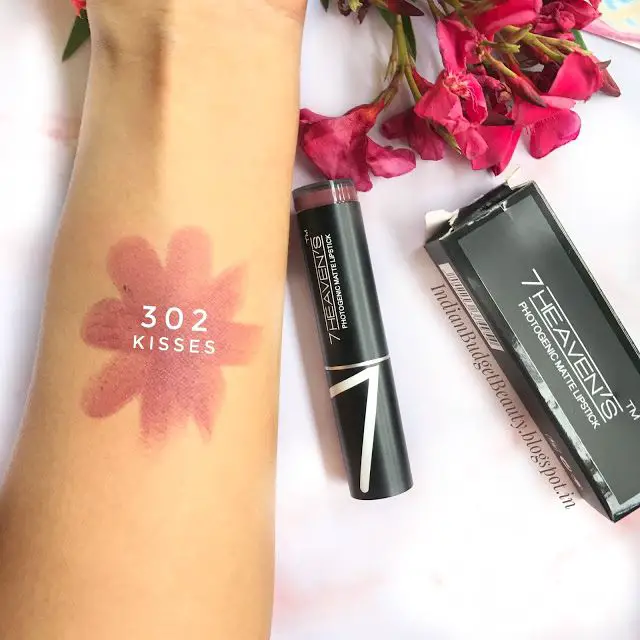 MY EXPERIENCE WITH THE PRODUCT:  
First of all, it's a very pretty color. Its super matte so doesn't expect to glide onto your lips easily, you have to apply pressure. The color is totally build-able. On one swipe, the bullet might not deposit enough color due to pressure differences, but after two swipes, it shows its true color.  
Now coming to the duration, it stays for about 4-5 hours straight and then stars fading but leaves behind a stain. If you eat full course meal then this lipstick totally fades away.   
If we look through the price point, then it does pretty good job. I totally recommend it. Its a pretty shade at a pretty price which does not hurt our purses 😉  
PROS:
Affordable
Travel Friendly
Sleek design
Pretty shade
lasts long
Super matte
CONS:
Availability can be a difficulty
RATINGS: 4/5
---
Also Read:
7 Heaven Glimmerstick Lip Liner Review | Half n Half Lip Liner Review
L'Oreal Paris Pink a porter Color Riche Matte Lipstick | REVIEW
Nykaa So Creme Creamy Matte Lipstick Review & Swatches
Flower Beauty Autumn Rose Petal Pout Lip Color Review & Swatches