So recently Nykaa had a huge sale with amazing deals, so I thought of buying a couple of products from their sale.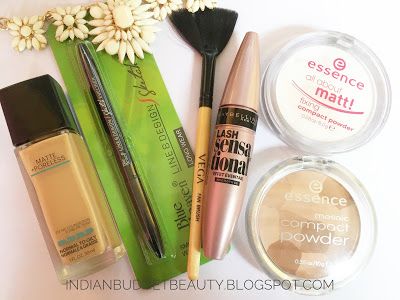 SALE is the golden word for a shopaholic like me, and it's even merrier if it's a makeup sale. So you can amazing my happiness when nykaa had a huge sale + 5% off extra on maybelline itself. 
Things that I bought
Maybelline New York Fit Me Matte + Poreless Foundation (230 Natural Beige)
I've heard great things about this product, i have seen many YouTubers and bloggers rave about it as well. So when I tried this foundation, I was literally blown away. It is the best foundation, I've ever used. The shade fits me perfectly.
Original Price: Rs.525
Sale Price: Rs.394
Blue Heaven Sketch Eye Liner
I wanted to try a pen eyeliner, so I added this to my cart. The tip is fine and the product is great. 

Original Price: Rs.205
Sale Price: Rs.185


This is a decent fan brush. Not too great but not too bad. Kind of in between. This is a good invest if you are a beginner.

Original Price: Rs.99
Sale Price: Rs.89 


Maybelline New York Lash Sensational Mascara
This is again an 'IT' product from Maybelline. I've been wanting this ever since I saw Kaushal Beauty rave about it on her videos, and thankfully Maybelline launched it in India as well. I bought this in the waterproof variant since the normal black was out of stock.

Original Price: Rs.500
Sale Price:Rs.375
Essence All About Matt! Fixing Compact Powder
I love Essence products and I really needed a good translucent compact, so I got myself this amazing Essence product. Many people compare it to the Makeup Forever Translucent Powder and since at my place there is no Sephora, so I had to give this one a go.

Price: Rs.349 (No discounts for Essence products)


Essence Mosaic Compact Powder – 01 Sunkissed Beauty
This is a set of four translucent powder which are designed in a mosaic style. This is great if you want a slightly bronzed skin. Perfect for everyday use. I love this and I recommend it to everyone.

Price: Rs.349
If you need a detailed review on any of the products, then do let me know in the comments section below 😀 You can sign up and get Rs.100 off by clicking
here